Welcome to Arctic Lakeland – province Kainuu
When was the last time you listened to the absolute silence? Breathed in the fresh scent of the forest?
Let your eyes wander over an endless expanse of forests, lakes and hills?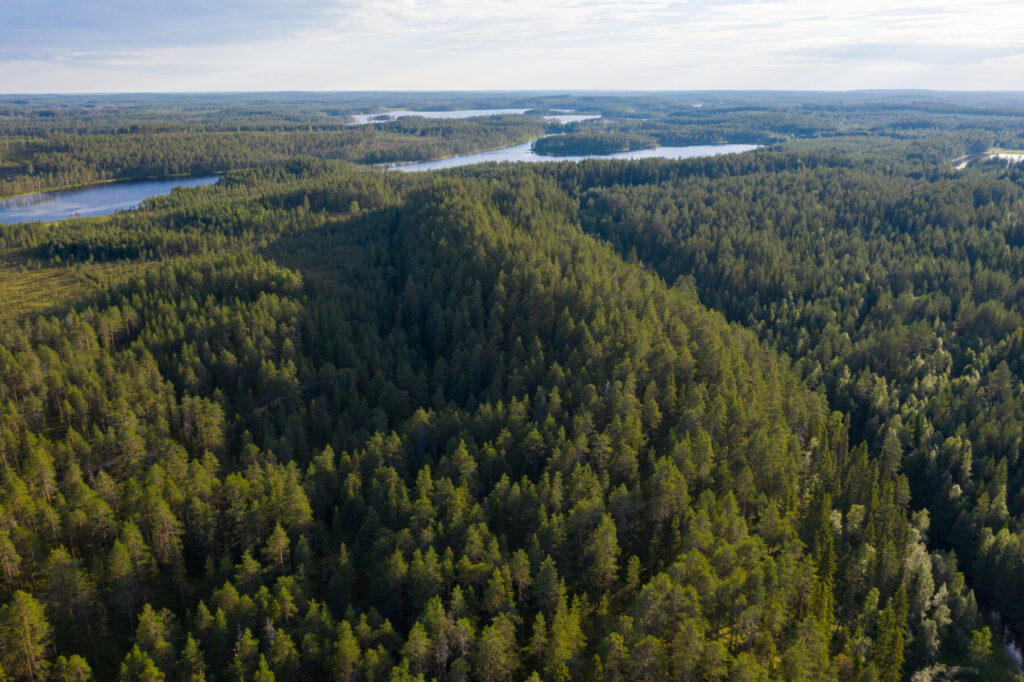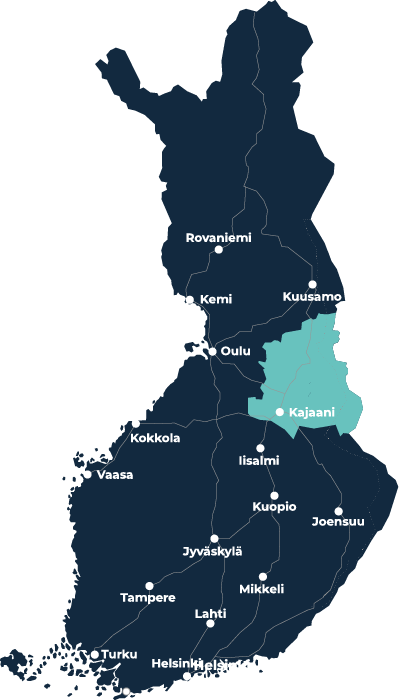 Arctic Lakeland Kainuu – the northernmost part of the Heart of Lakeland Finland is situated at the point where Lakeland and Lapland meet. A guest arriving in Arctic Lakeland will get to experience both the southern and northern landscapes of Finland – large lakes and rocky hillsides can be seen during one trip.
Arctic Lakeland has the perfect harmony of nature, culture and sports.
In the summer season, Arctic Lakeland is a holiday paradise with blue lakes and clean waters, variety choice of cottages and finnish way of life.
Select time for a trip to fascinating Finland – Arctic Lakeland region is ready for you and your dream holiday! We offer the best experiences in the happiest country in the world.
Arrival by car to the region.
Finland's extensive national road network lead you throught Helsinki-Heinola-Mikkeli-Kuopio-Kajaani to Arctic Lakeland. More detailed information of arrival to region.
The most memorable summer experiences at Arctic Lakeland region
Whether you enjoy nature or love culture – in summer, Kainuu is at its most beautiful.
Here are some tips to help you find a way to escape the hustle and bustle of everyday life for yourself, your loved ones or your family.
Local culture, sauna and finnish way of life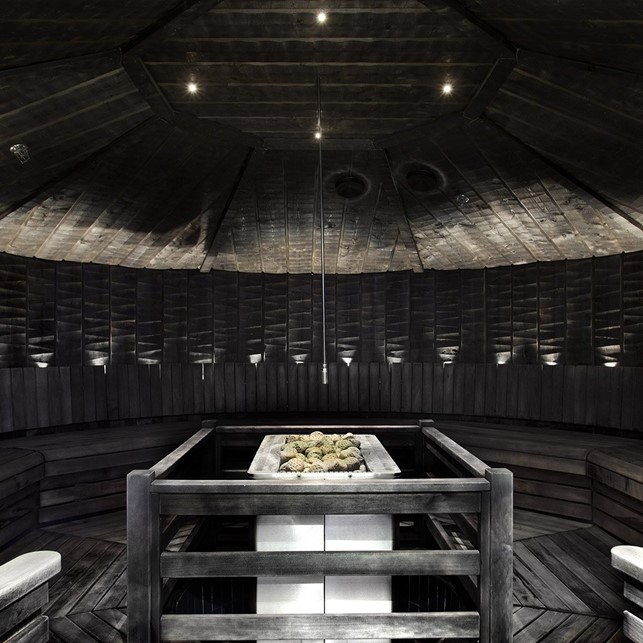 Katinkulta Sauna World
Relax and enjoy the warmth in the Sauna World in Katinkulta Spa.
Peat Sauna
Relaxed, good feeling is the goal of peat sauna! Peat sauna relaxes your body and relieves stress.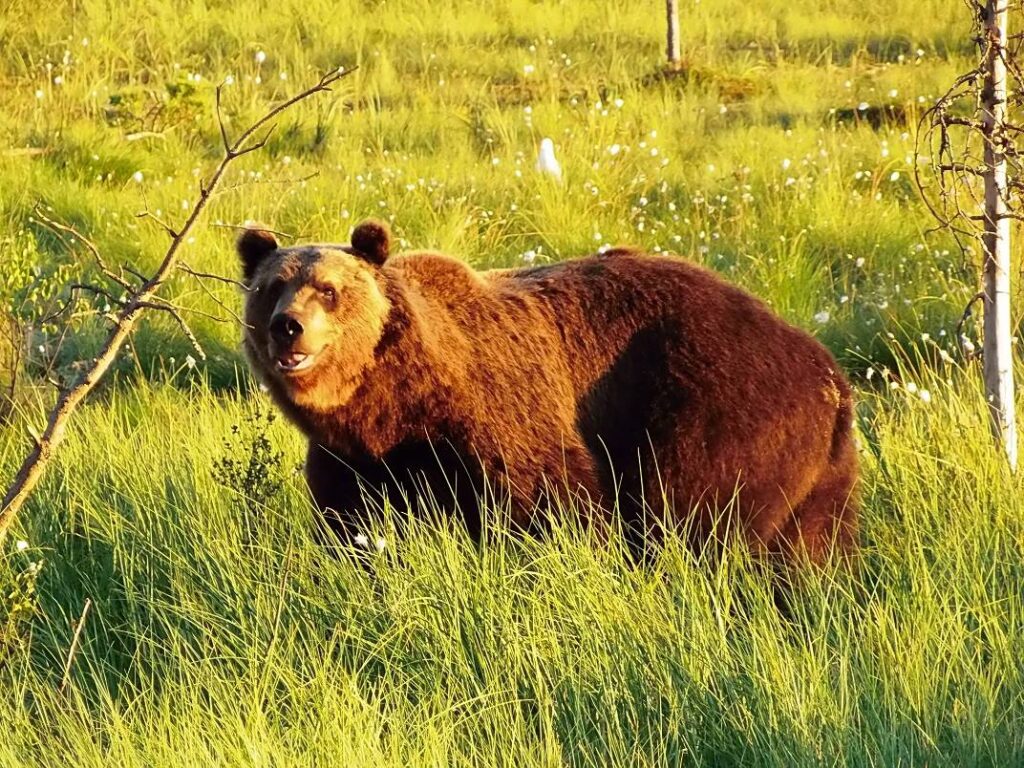 Bear Sauna Safari
Finland's first bear sauna is now open! Come and experience two age-old experiences at once.
Kuhmo Chamber Music 2022
The Kuhmo Chamber Music Festival will run for the 52nd time from 10 to 23 July, 2022. The theme of…
Juminkeko
Juminkeko is the information centre dedicated to the Kalevala and the Karelian culture.
Discover more culture products here.
---
Water activities
Did you know, there are 4 641 lakes in our region which gives joy and happy summer moments for everyone!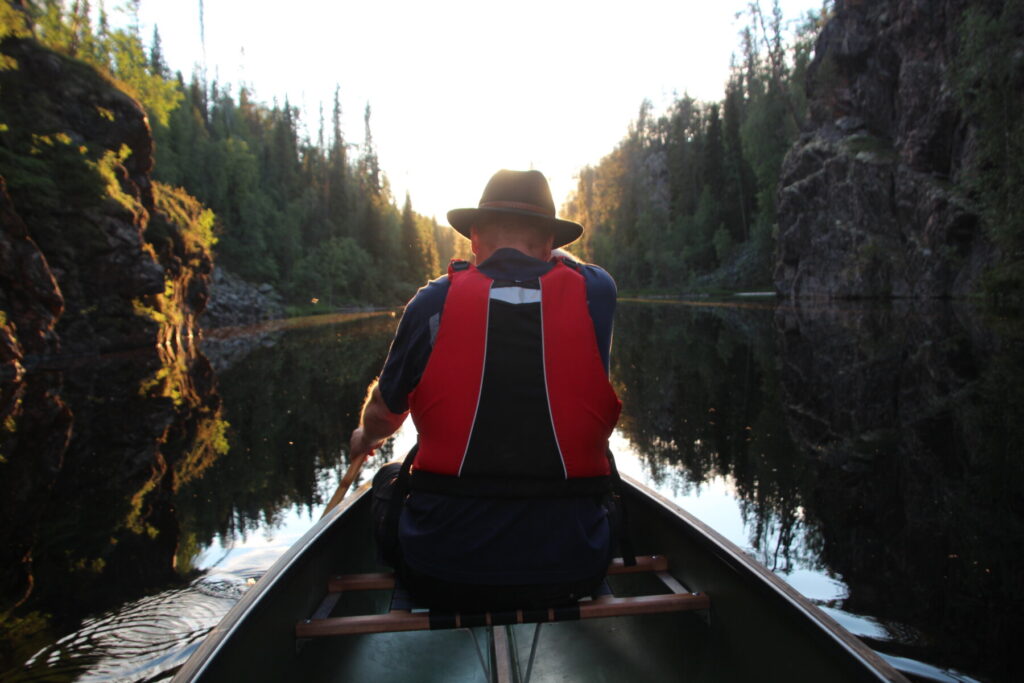 Canoeing trip to Julma-Ölkky lake at the sunset
Guided canoeing trip to the Julma-Ölkky canyon lake at the sunset.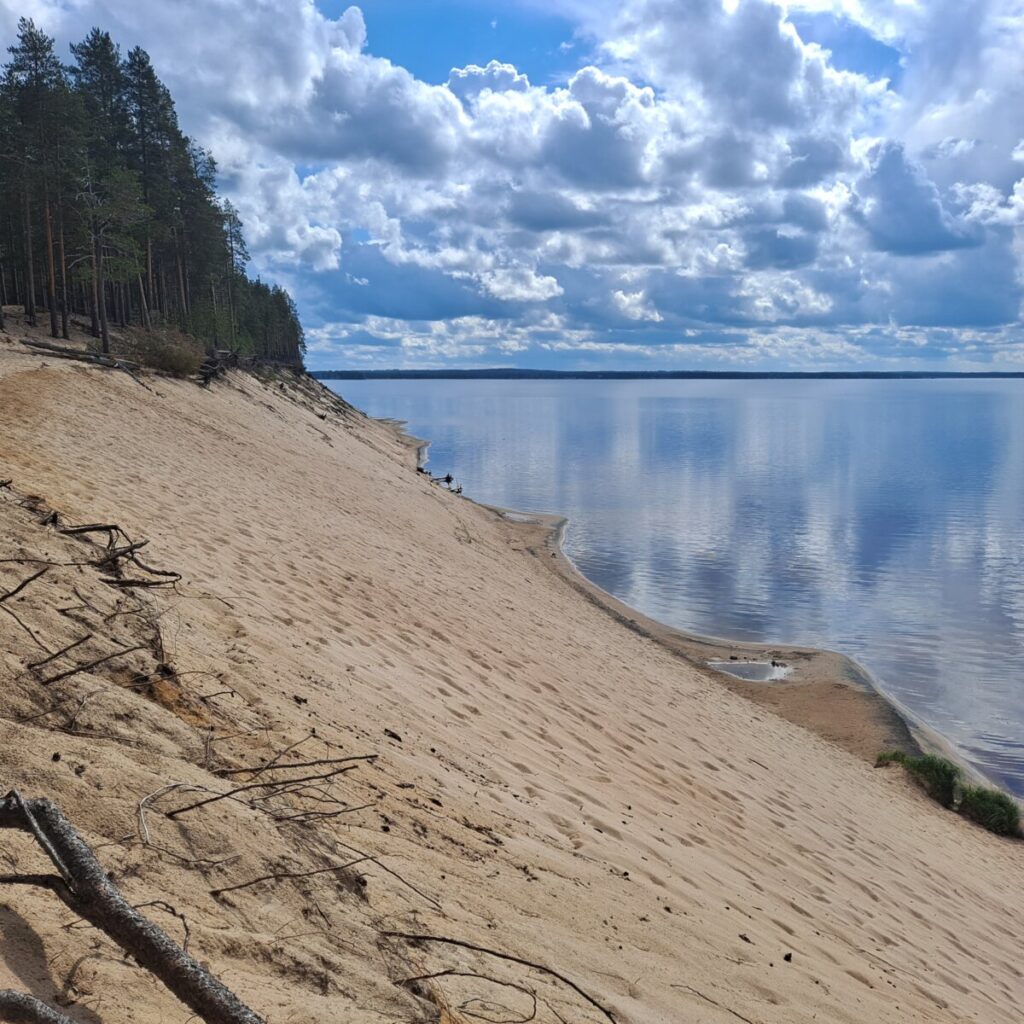 A day trip to the fabulous Ärjänsaari in Lake Oulujärvi
Spend a self-guided summer day on Ärjä island, also known as a paradise island.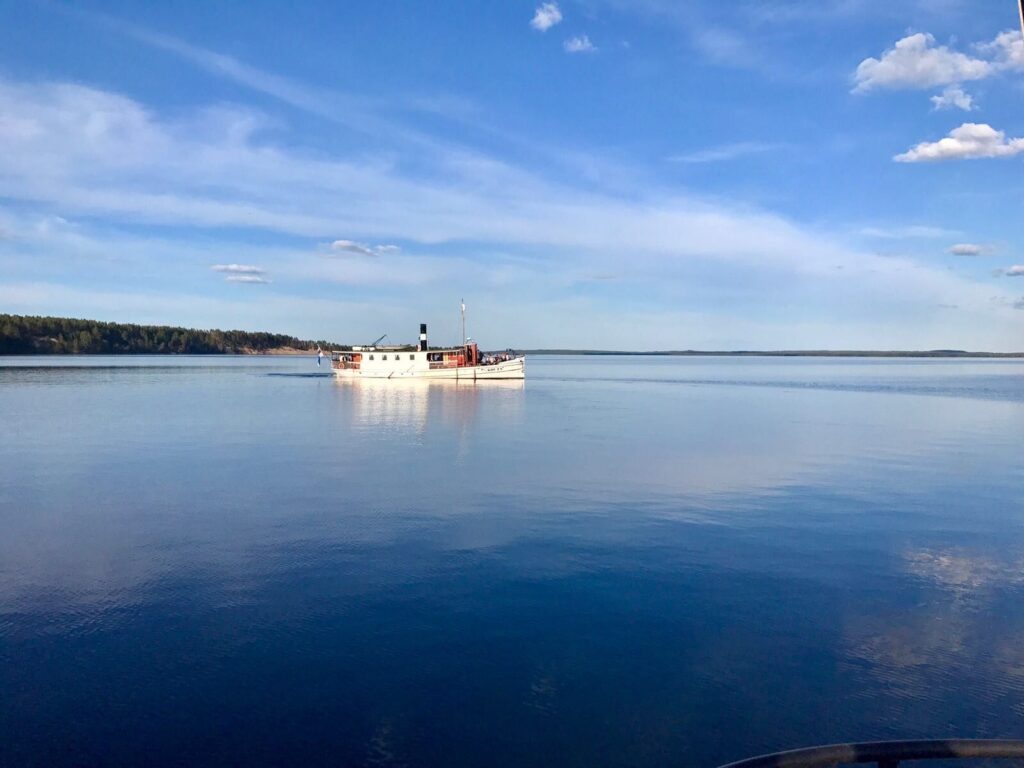 Scenic Steamship Cruise to Kajaaninjoki River
Steamship Kouta is the northernmost steamship in Europe. Welcome and enjoy the scenic Lake Oulujärvi and the authentic steamship experience.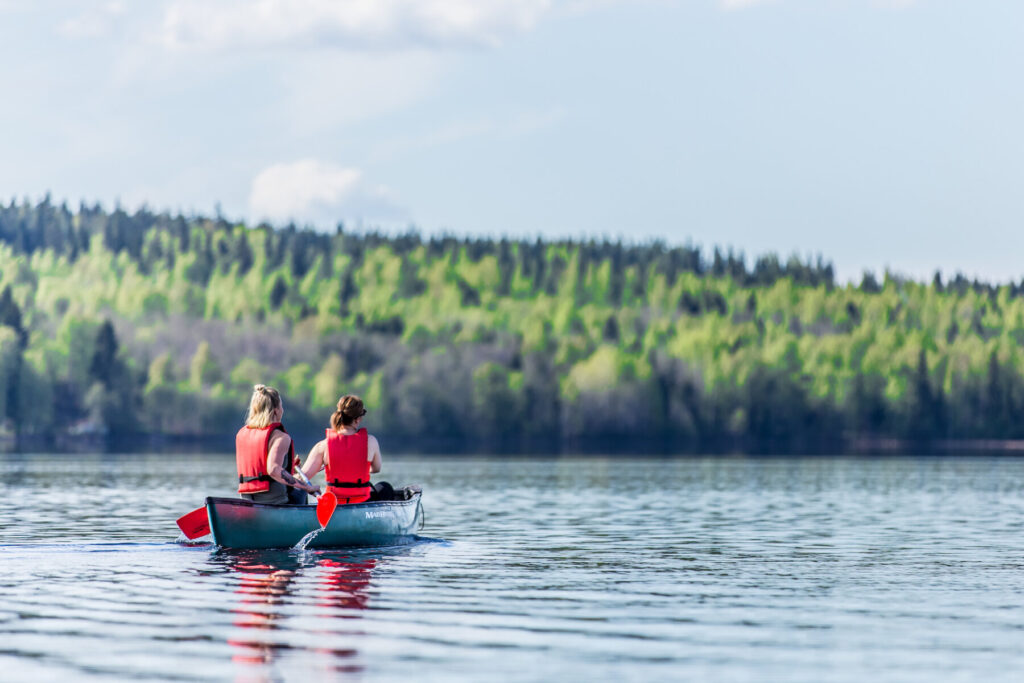 Canoe Tour
A relaxing guided canoe tour suitable for families and beginners.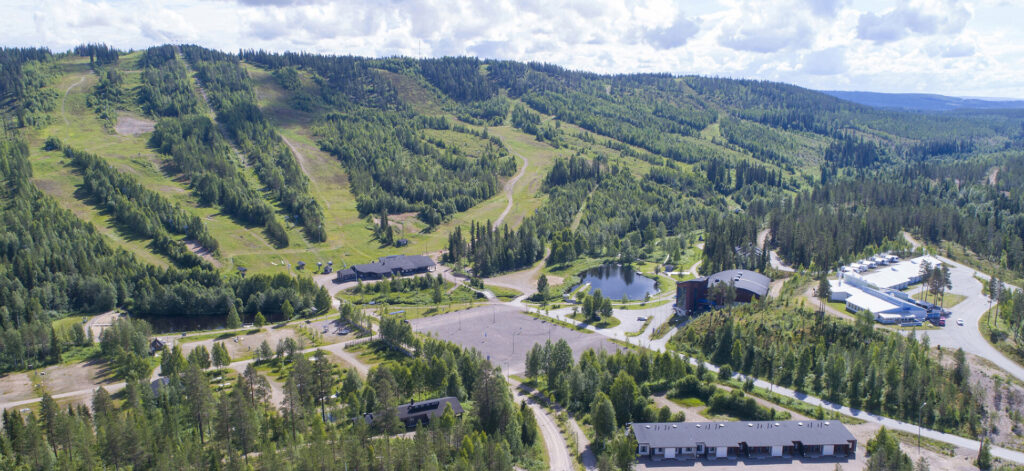 Kalastuspolku – the Fishing Path 6 km, Paljakka
The fishing path is an easy day trip for the whole family and those interested in fishing. It leads through the magnificent scenery of several rivers, creeks and lakes around Paljakka resort.
Discover more water activities here.
---
Wildlife watching and fotographing
Boat trip to the wilderness lake and bear watching
Experience the silence of the Eastern border on a guided boat trip. Later in evening you will have a chance…
Night in a bear / wolverine hide
Observe the European brown bear or wolverine in their natural environment, the wild taiga, is an unforgettable experience and of…
2 night bear trip
This is your chance to see the most famous inhabitants of the Wild Taiga region, the majestic Wild Brown Bear.
Bear, wolf and wolverine photography
Spend a night in a hide especially designed for photographers and film makers. Take pictures of bear, wolf and wolverine…
Bear Watching in Luxury Cabin (1.4. – 31.10)
Bear Watching, An Experience You Will Never Forget
Wolverines
Not only bears, wolves and eagles but you can also see the wolverines at our feeding places. This small but…
Elk safari
Wildlife safari in Finland to observe and photography the european elk ( alces alces) organise by Taiga Spirit, nature and…
Wolverine in Viiksimo
Wolverine is a shy and rare animal. You have possibility to see and photograph them from the Boreal Wildlife Centre's…
Flying squirrel safari
We will take you in old grown forest , on way we will enjoy the richness of taiga forest with…
Wild Forest Caribou
The wild forest reindeer or Finnish caribou (Rangifer tarandus fennicus) is the native reindeer from Finland and northwestern part of…
Discover more wildlife here.
---
Nature Parks and culture walks around the Arctic Lakeland region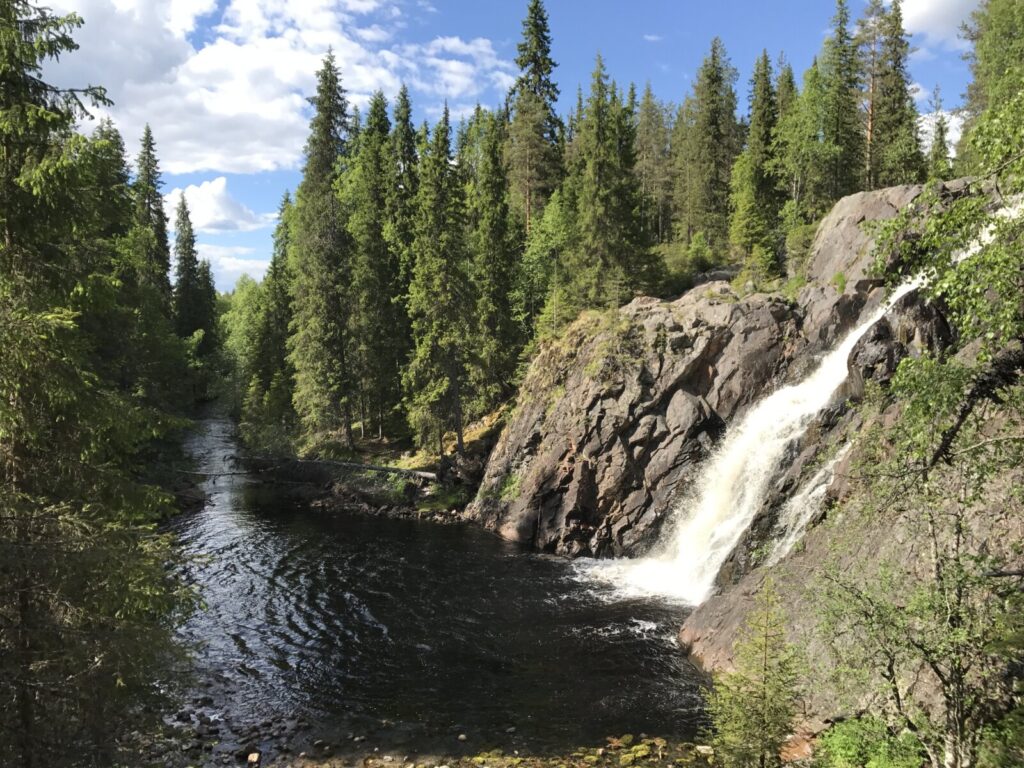 Hepoköngäs Waterfall Accessible Trail 1,1 km, Paljakka
Experience one of Finland's highest natural waterfalls Hepoköngäs.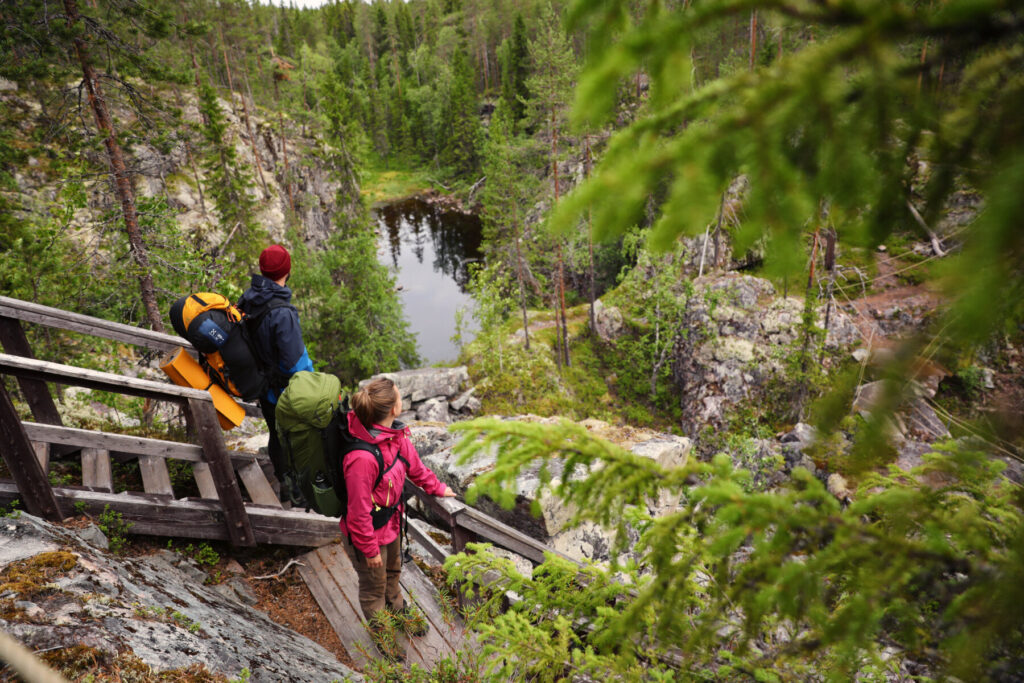 Hiidenkierros Trail 5 km, Hiidenportti National park
Hiidenportti, near Vuokatti holiday resort, the cradle of gorges with its vertical rock walls takes the hiker to explore the Kainuu wilderness landscape at its' best.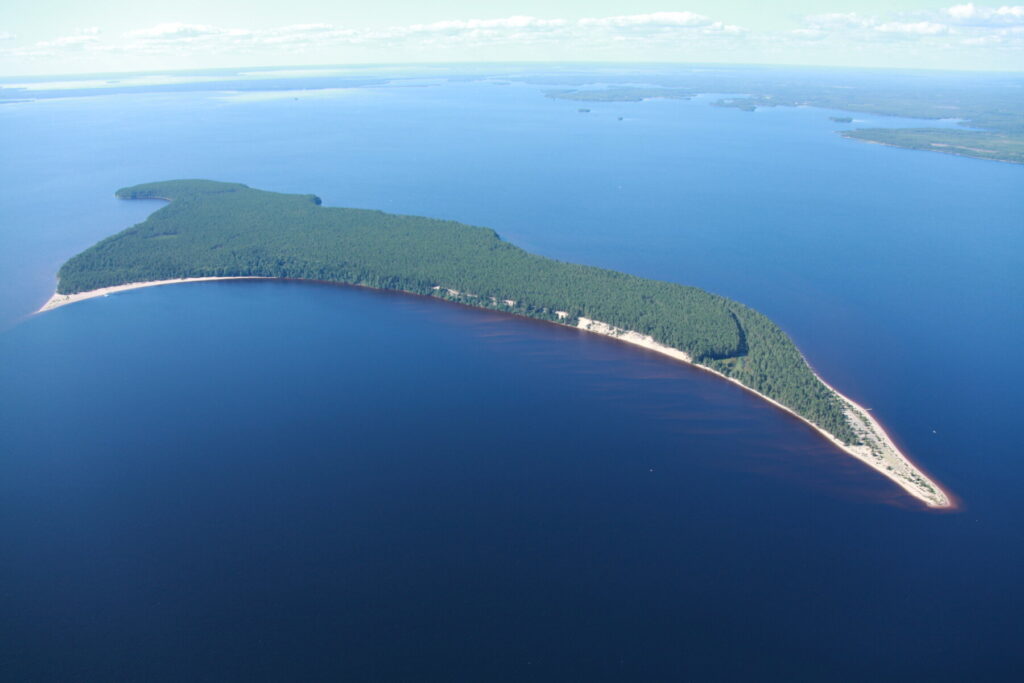 Ärjänsaari hiking tour 9,2 km, Kajaani
Ärjä offers the opportunity to experience great natural spectacles on the island's high sand terraces and conifers covering hiking trail.
Värikallion kaarros trail in Hossa National Park
Hossa, famous for the clear water lakes, ponds and the historical Värikallio rock paintings.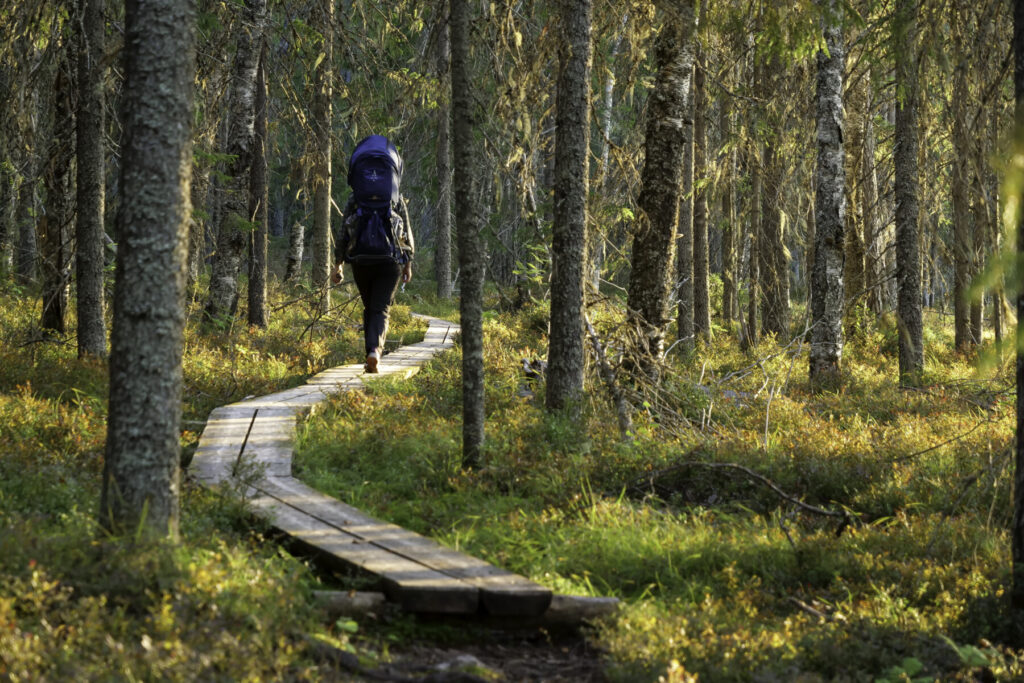 Hiking trail round Lake Elimysjärvi, 13 km, Elimyssalo Kuhmo
The Elimyssalo Nature Reserve represents Arctic Lakeland Kainuu's old-growth taiga forest nature at its best.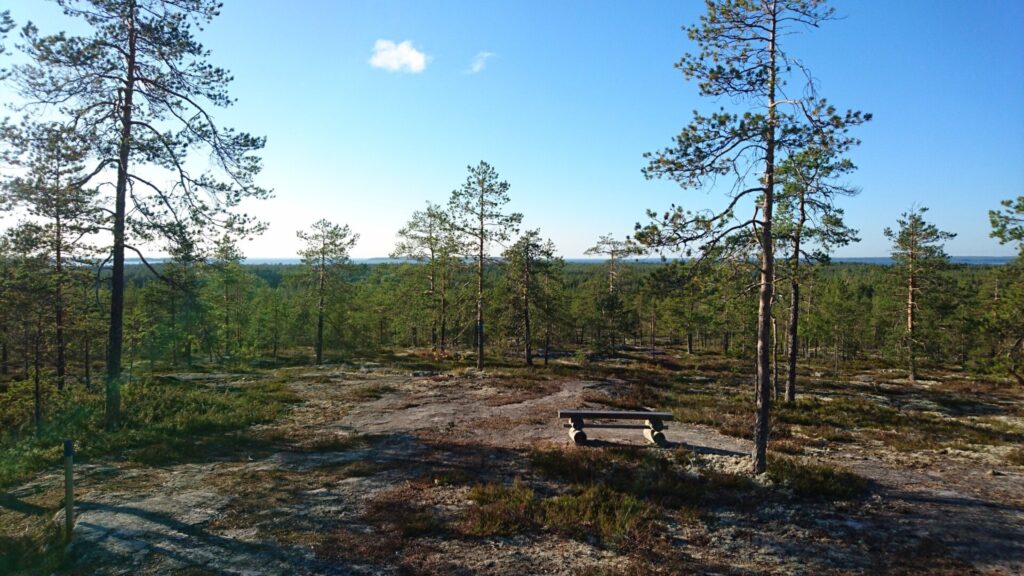 Akkovaara family excursion – About devils and giants 2 km, Kajaani
Unique view over lake Oulujärvi from the top of Akkovaara hill. Akkovaara is an ancient Lappish rite.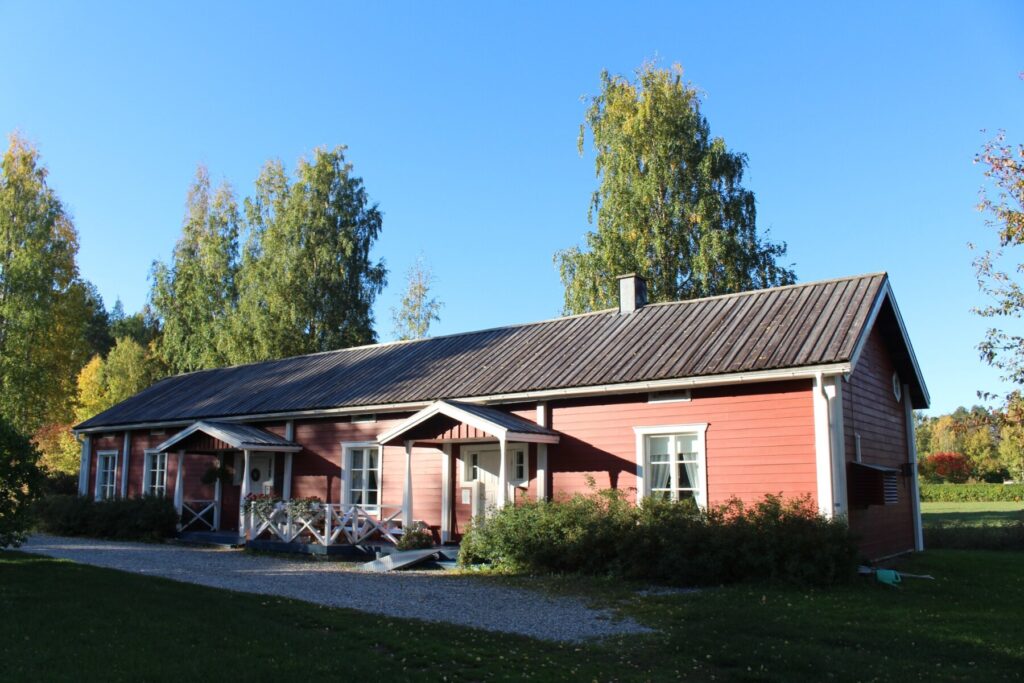 Eino Leino cultural walk, 2 km, Kajaani
Along this walk you will follow in the footsteps of Finland´s famous writer Eino Leino while taking in the beautiful countryside and history of Paltaniemi village.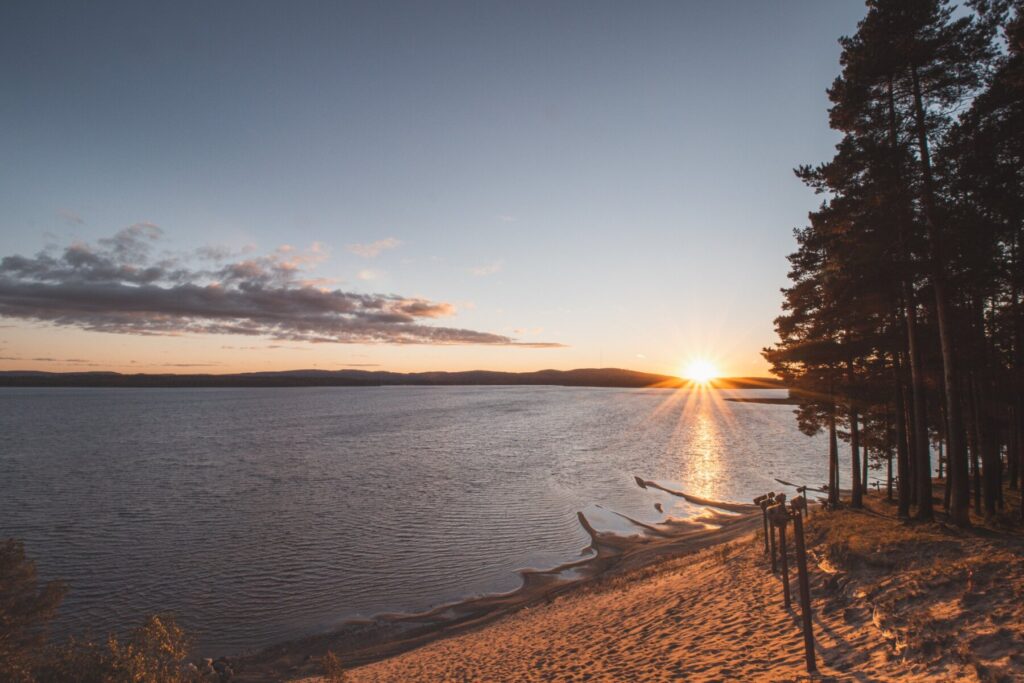 Hiukka nature and cultural trail 2,5 / 4 km, Sotkamo
Easy-to-walk natural path takes you through a lovely pine forest to breathtaking views of Lake Sapsojärvi.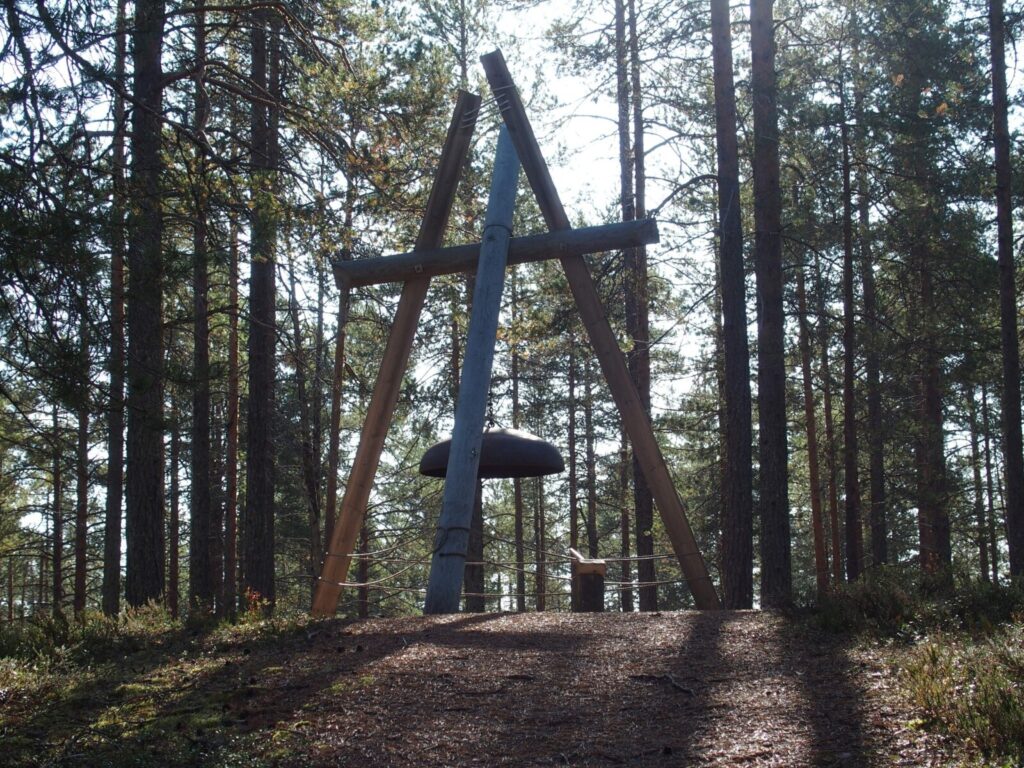 The Musical Forest 1,5 km, Suomussalmi
You can link your outdoor activity with playing music as you walk along the nature trail in the ridge landscape.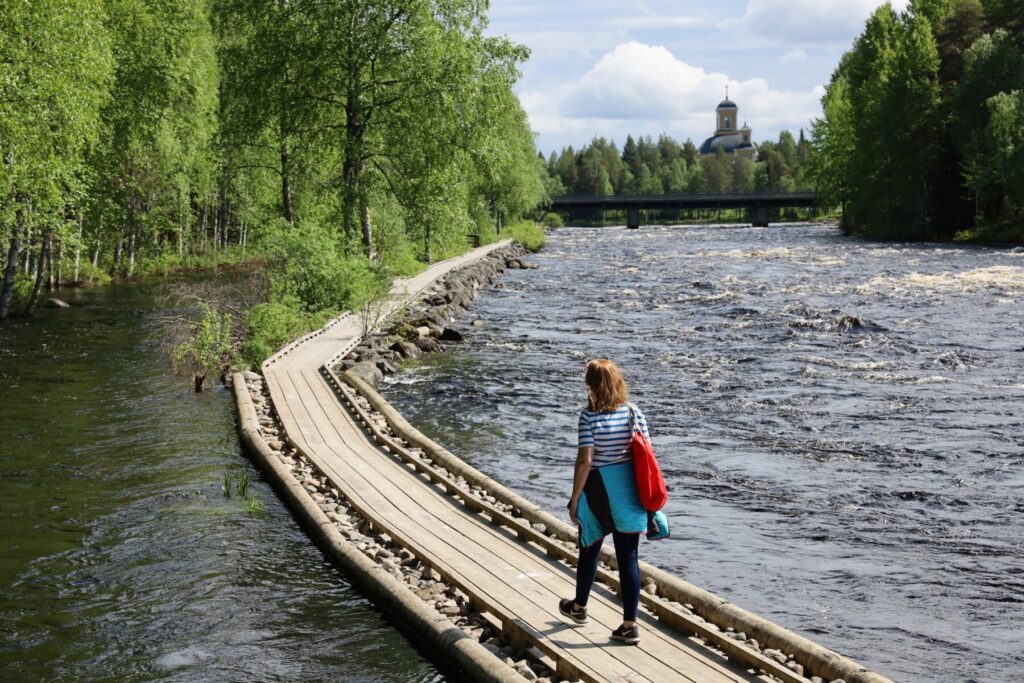 Kuhmo Cultural Promenade 4,8 km, Kuhmo
The cultural promenade takes you to the most important cultural sites in the center of Kuhmo – through the beautiful landscapes of Lake Lammasjärvi and Pajakkakoski rapids and the streets of the center.
Discover more nature and culture routes and trails here.
---
Family owned hotels, cottages and other special accommodation –
where already staying is an experience!
Cottage accommodation all year round
Lentiira Holiday Village accommodates visitors in nine comfy cottages for 2-7 persons facing the Lake Lentiira. In addition accommodation and…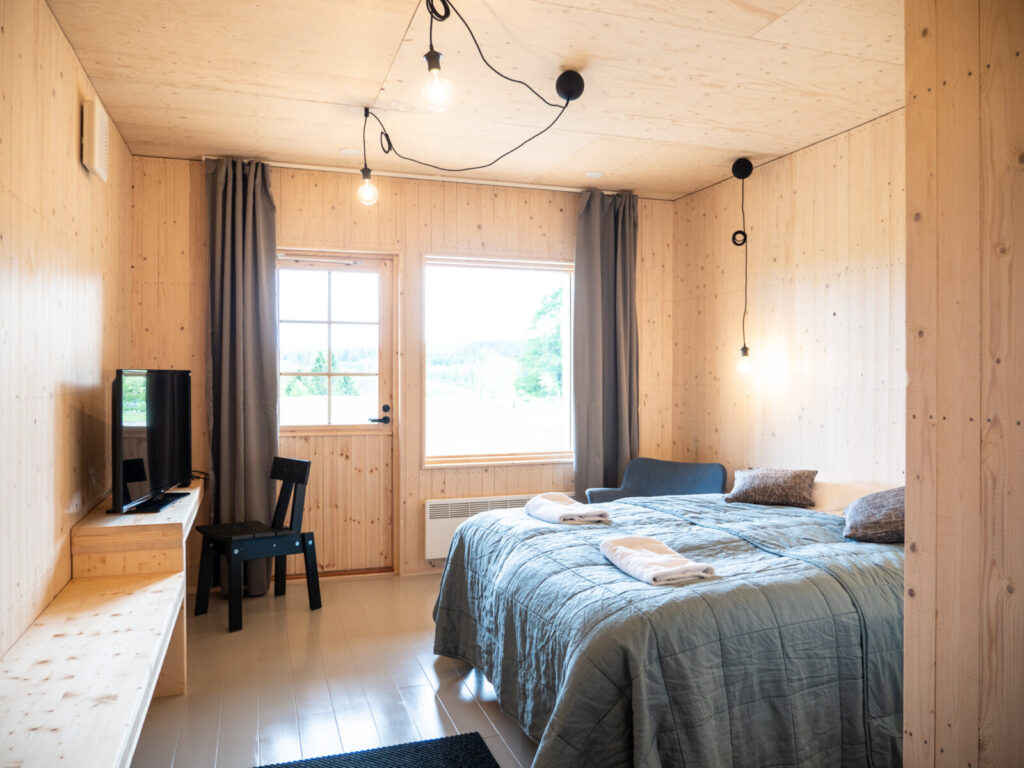 Haapala BnB
Bed and breakfast type accommodation, restaurant serving lunch, a la carte and brunches from foraged and local ingredients.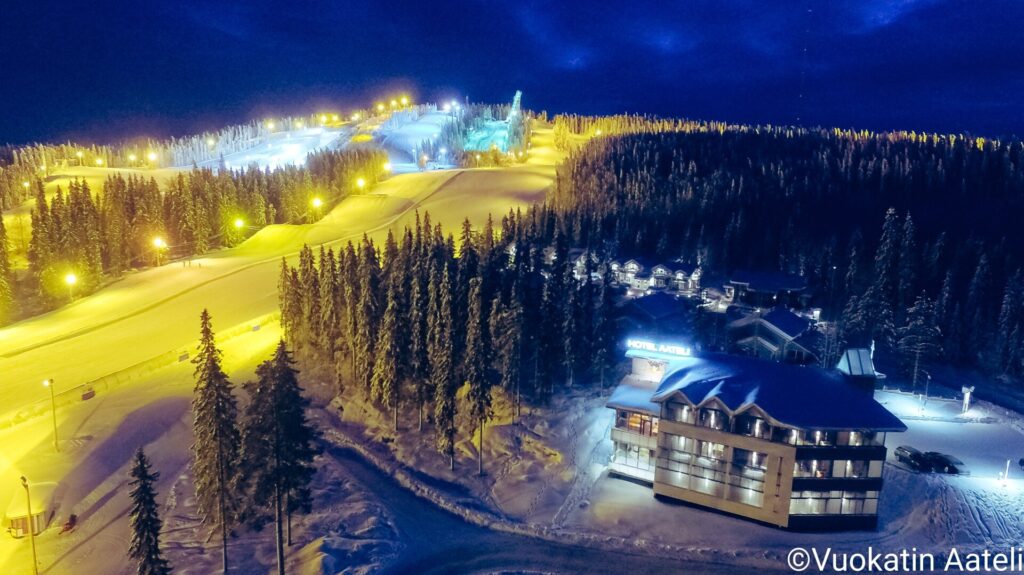 Hotel Aateli
A boutique hotel right next to ski slopes in Vuokatti.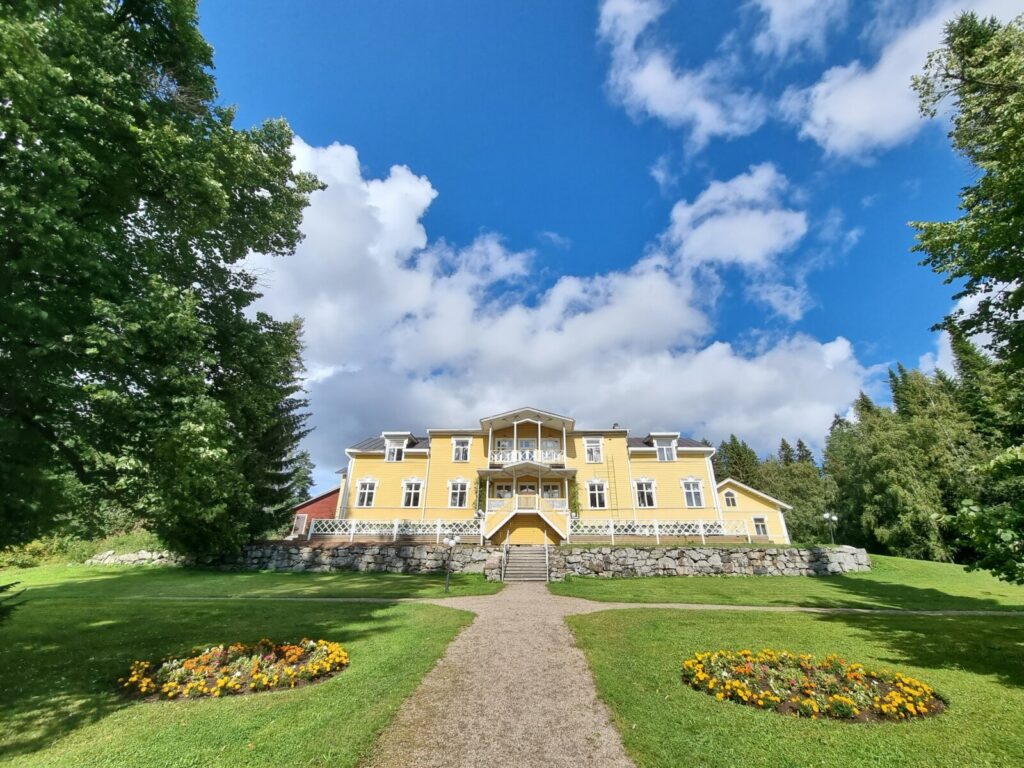 Manor House Hotel Karolineburg
Welcome the Finland's Northernmost Manor House!
Birdhouse Hotel
Feel free as a bird and step high to the Giant's birdhouse!
Old times glamping-overnight in a haybarn
Experience the fresh air, sounds of nature and the scent of hay while digging in your own hole in the…
Hotel Kalevala
This select hotel, whose building mirrors the nature that surrounds it, nestles on the shores of Lake Lammasjärvi in Eastern…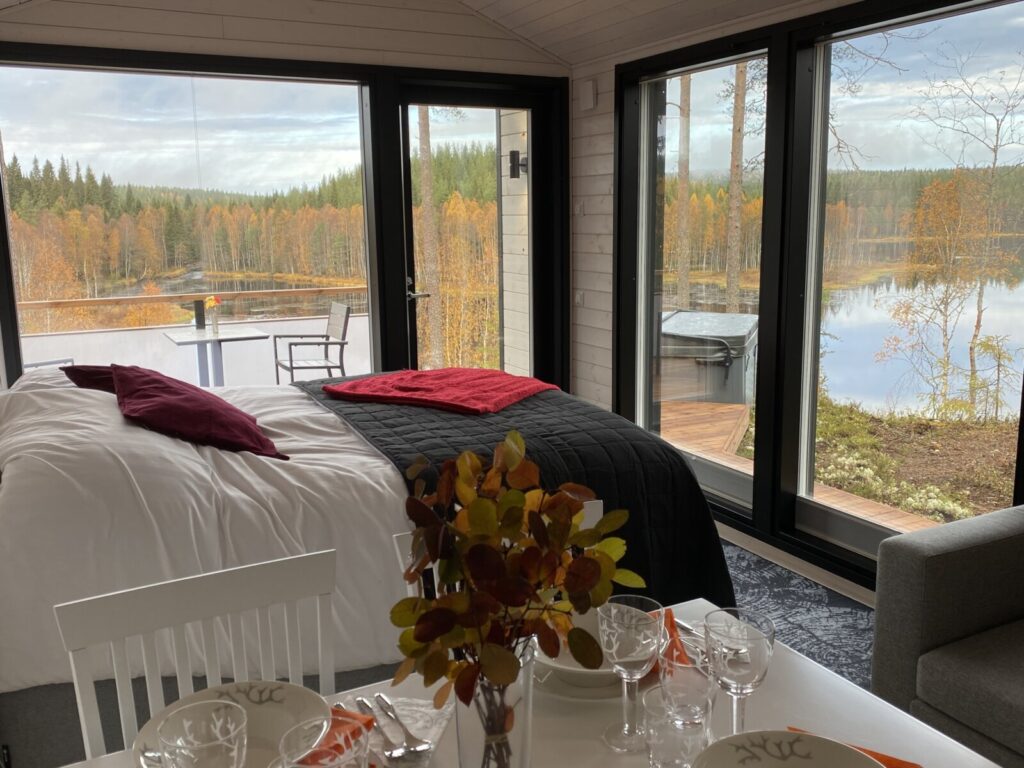 Lake Resort Paljakka
The two floor-to-ceiling window walls of your cabin offer a fantastic view of the lake, surrounding forest and the sky. If lucky the Northern lights bright the sky in the darkness of autumn nights. Each Glass Cabin holds bed capacity for 2 adults (double bed) and 1-2 children (extra bed), kitchen, shower, sauna and outdoor hot tub. Cabin size: 21 m2.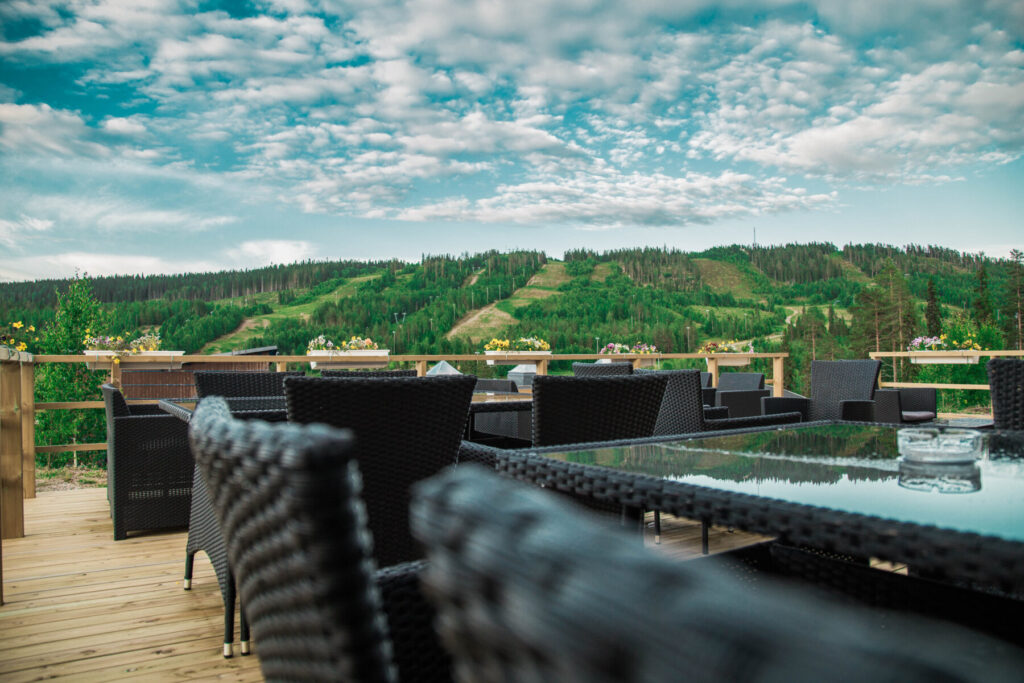 Hotel Paljakka
Cozy and family-owned hotel is located in the heart of Paljakka Resort. Single, twin and family rooms with complimentary Wi-Fi, minirefridgerator, kettle and complimentary coffee/tea, wc, shower, hair dryer. Use of hotel saunas is included in the room price during hotel's opening hours.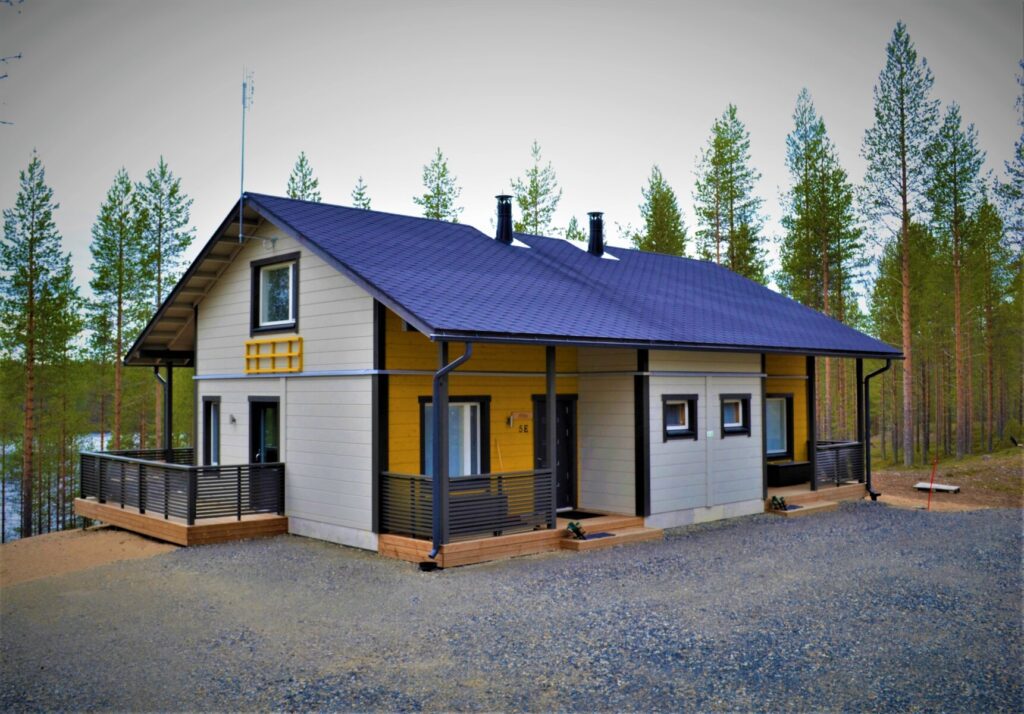 Cottages next to Hossa National Park
The comfortable cabins and modernized lumberjack apartments at Hossa are suitable for year-round stays.
More accommodation options here.
---
Snow Fun in Winter Wonderland
Arctic Lakeland is truly year round holiday destination. Once you arrive in the region, you may find yourself here again.
Find out more about spending time in Winter Wonderland and book you next season holiday and experiences here.