We are here, waiting for you – whether you arrive by plane, car or train. Arctic Lakeland, the northern part of Finnish lake district is situated in the middle of the country, making the journey even a half shorter compared to destinations in Lapland.
Domestic flights
From Helsinki you can fly direct to Arctic Lakeland, Kajaani and destinations nearby such as Kuopio, Oulu or Kuusamo and continue further from here. Please see updated flight schedules below.
Flight times
Helsinki – Kajaani 1 h 20 min
Helsinki – Oulu 1 h 10 min
Helsinki – Kuusamo 1 h 40 min
Helsinki – Kuopio 1 h
Schedules and connections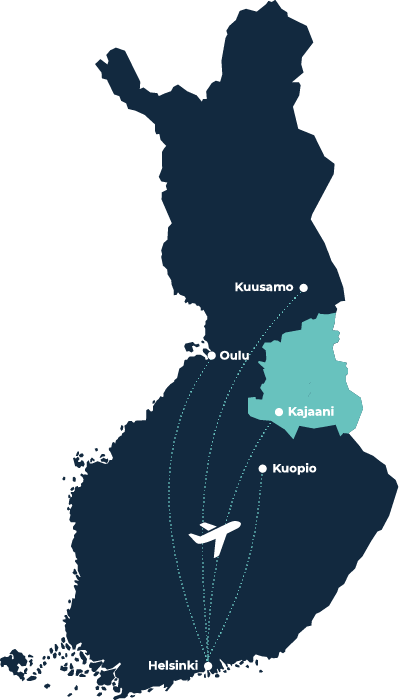 By train
Extensive rail network and regular service make Arctic Lakeland's destinations easily reachable environmentally friendly by travelling by train. Please see updated contact information below.
Travel times
Oulu – Kajaani 2 h 20 min
Kuopio – Kajaani 1 h 50 min
Jyväskylä – Kajaani 3 h 40 min
Tampere – Kajaani 6 h 30 min
Helsinki – Kajaani 6 h 30 min
St. Petersburg – Kajaani 7 h 40 min
Schedules and connections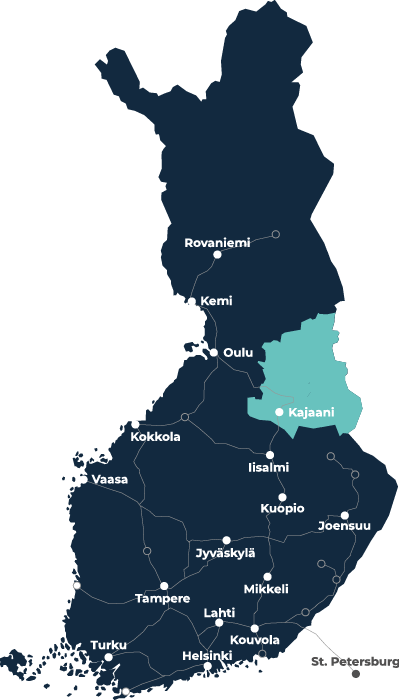 By car
Wherever you will be arriving from, Finland's extensive national road network takes you to Arctic Lakeland. Travel times from the south are half shorter than to Lapland – would you rather spend your vacation day on travel than relaxation?
Travel times
Kuusamo – Arctic Lakeland 40 min
Oulu – Arctic Lakeland 2 h
Kuopio – Arctic Lakeland 2 h
Jyväskylä – Arctic Lakeland 3 h
Tampere – Arctic Lakeland 5 h
Helsinki – Arctic Lakeland 6 h