We are here, waiting for you – whether you arrive by plane, car or train. Arctic Lakeland, the northern part of Finnish lake district is situated in the middle of the country, making the journey even a half shorter compared to destinations in Lapland.
flights to arctic lakeland(kajaani airport)
From the capital of Finland, Helsinki you can fly direct DAT scheduled flights to Kajaani all year round and continue further from airport to specific tourism destination or locations. Estimated flight duration is 1 h 20 h. Please see updated flight schedules from Helsinki to Kajaani below.
You can also fly from numerous destinations worldwide with Finnair to Kajaani. Flights are operated in cooperation with partner airline Danish Airline Transport DAT.
Flight times
Helsinki – Kajaani (Arctic Lakeland) 1 h 20 min
Helsinki – Oulu 1 h 10 min, transfer to Arctic Lakeland 2 h
Helsinki – Kuusamo 1 h 40 min, transfer to Arctic Lakeland 2 h
Helsinki – Kuopio 1 h, transfer to Arctic Lakeland 2 h
airport bus Schedules and connections via vuokatti to kuhmo
From the scheduled flight and airport Kajaani, an airport bus will take you via Vuokatti and Katinkulta to Kuhmo. Timetables and fares (Kajaani lentokenttä-Kuhmo) for Airbus connections from Matkahuolto services.
Bus transfer departs approx. 10 minutes after the arrival of the flight and will wait at the airport for the landing of the plane.
Or order a taxi by calling Korpitaxi or Kajaani Regional Taxi on
phone +358 600 398 100.
car rental
By train
Extensive rail network in Finland and regular service make Kajaani easily reachable environmentally friendly by travelling by train. Please see updated contact information below.
Travel times
Helsinki – Kajaani approx. 6 h 30 min
St. Petersburg – Kajaani 7 h 40 min
From the Kajaani railway station take a bus, taxi or rent a car to your final destination.
car rental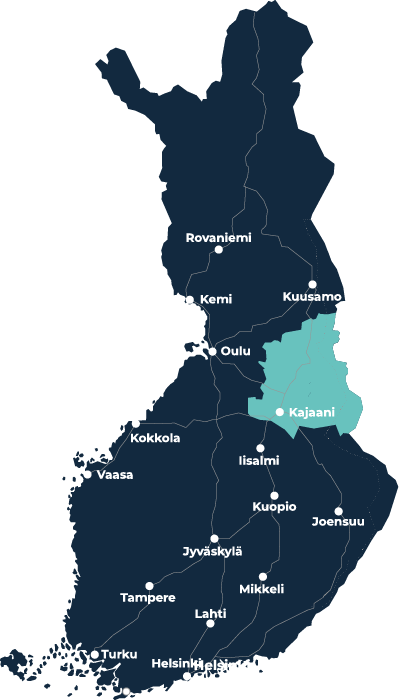 ---
BY BUS
Arctic Lakeland and various tourism destinations are easily accessible by bus. Check the Matkahuolto service for the most suitable bus routes, schedules and prices for you.
Bus company Onnibus services and connections are available to Kainuu. You can find the Onnibus bus services here.
---
By car
Wherever you will be arriving from, Finland's extensive national road network leads you to Arctic Lakeland. Travel time from the capital area is half shorter than to Lapland – would you rather spend your vacation day relaxing or traveling?
Up-to-date information on road conditions is published by the Finnish Transport Agency.
Travel times
Helsinki – Arctic Lakeland 7 h
Turku – Arctic Lakeland 8 h
CHARGING POINTS FOR ELECTRIC VEHICLES
Welcome to Arctic Lakeland also with an electric car! You can find charging points in Kajaani, Vuokatti, Kuhmo and Suomussalmi. See electric car charging points.
car rental