Sustainable tourism means that tourism operators and tourists together, through their choices and actions, do more good than harm. Responsibility means considering current and future economic, social and environmental impacts.
We in Arctic Lakeland have been acting responsibly for a long time and are constantly working to ensure that we can offer our guests responsible services. Like many other notions, responsible action starts with small but essential steps. A responsible approach requires continuous improvement and development; it is a path toward a more holistic way of life.
What kind of sustainability actions would you like to see from tourism operators? What choices do you make to travel more responsibly? Answer the short questionnaire. We will collect the wishes and ideas on this page and use them to improve our activities.
In Kainuu:
We have taken measures to save energy and water in our destinations. We have taken steps to reduce energy consumption and save energy in our facilities. For example, tourism businesses have changed heating systems to more ecological and modern ones.
We are trying to reduce energy consumption in everyday life. Air-source heat pumps and wood-burning baking ovens reduce the electric heating load, and we take energy consumption into account when regulating indoor temperatures and using the capacity of refrigeration appliances. In the future, we envisage solar panels and intelligent solutions for indoor temperature control in cottages. We will install LEDs at every renewal of light bulbs. (Lentiira Holiday Village)
We have installed a solar power plant for energy production, replaced the old oil heating with more ecological geothermal heating, and use air-source heat pumps for cooling and heating. (Heinämäki Village Association)
We encourage our guests to make choices that save the environment, for example, in terms of electricity and water consumption in the room. The hotel has electric car charging points for guests' use. (Hotel Kalevala)
We changed the heating system in Hossa Rajakartano to environmentally friendly geothermal heating. (Loma-Hossa)
We use geothermal heat to warm up our main building, and air-source heat pumps in our other buildings. (Arctic Giant)
The snowmobiles used in snowmaking have been changed from 2-stroke to 4-stroke, which has resulted in a significant reduction in fuel consumption. We have invested in energy-saving slope equipment.(Vuokatti Ski Center)
We monitor our drivers' driving habits and are constantly working to improve them in a more economical direction. We avoid idling our cars. (Pohjolan Matka)
Electric car charging points are installed in all car parks. The optimum size of the accommodation facilities also reduces the energy consumed by individual customers. Lake Resort's experience cabins are built to be energy efficient. This summer, we also installed air-source heat pumps, which can also be used to improve winter heating with low energy consumption. (Lake Resort Paljakka)
We use our sledding fleet until the end of their lifecycle, and regular maintenance ensures that the sleds can be used for many kilometers. Equipment maintenance is carried out in our garage, on the same property, eliminating the need to transport the sleds for care. For the coming season, new, less fuel-consuming, 4-stroke snowmobiles have been ordered for safari and rental use. (SafariSuomi)
Our electricity contract was changed to green Lumme Ekoenergia in winter 2022. (Ukkohalla Ski Resort)
With the help of building automation, we monitor and regulate, among other things, the temperature in the cabins, lighting, and, for example, when the site is unoccupied, the room temperature is lowered. Most of the lighting is LED, and all the sites will be upgraded with LED lights when replaced. Hotel Aateli is heated by geothermal heating, as is the hotel's domestic hot water. Air-source heat pumps and heat-storing fireplaces are used in various accommodation areas, and water-source heat pumps are planned for the Linna apartments in the summer of 2023. All cottages have water-saving taps and showers. (Vuokatin Aateli)
Our buildings save energy, thanks to the extra thick insulation all over. Heat pumps and led lighting cut most of the rest. The classic fireplaces burn wood from renewable local sources. As a result, at Villa Cone Beach we can adjust the room temperatures for your comfort. As well, sweet dreams wait under luxuriously lightweight down blankets. In order to minimise mileage and emissions, we drive smoothly and often carry goods while our guests travel in comfort. Electric vehicles are also in our plans for the near future. (Arctica Estates)
We only use electricity generated from carbon dioxide-free energy sources. (Hotel Ukkohalla)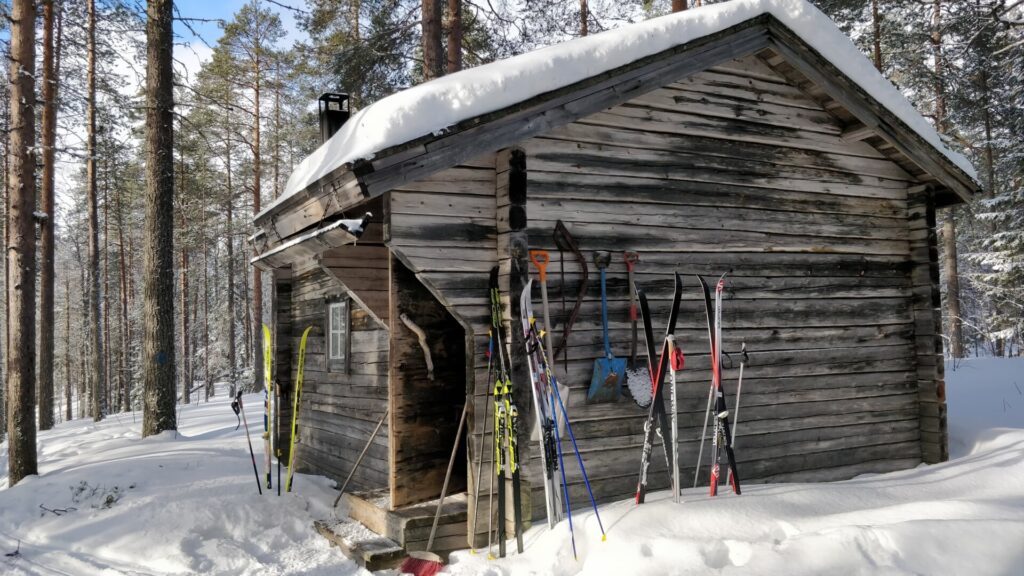 We will increase waste sorting and make it possible for our customers also to sort their waste.
Waste sorting has been significantly expanded over the last three years. In addition to the company's recycling, a sorting facility has been created for accommodation guests. Recent renovations of cottages have taken sorting into account, and a new sorting shed has been built for customer use (bio, metal, plastic, glass, cardboard, metal). (Lentiira Holiday Village)
Customers returning from Ärjänsaari have access to extensive waste sorting right at our marina. (Naturally Oulujärvi Oy)
Cottage customers can sort their waste into the types provided by the waste supplier. (Vuokatin Aateli)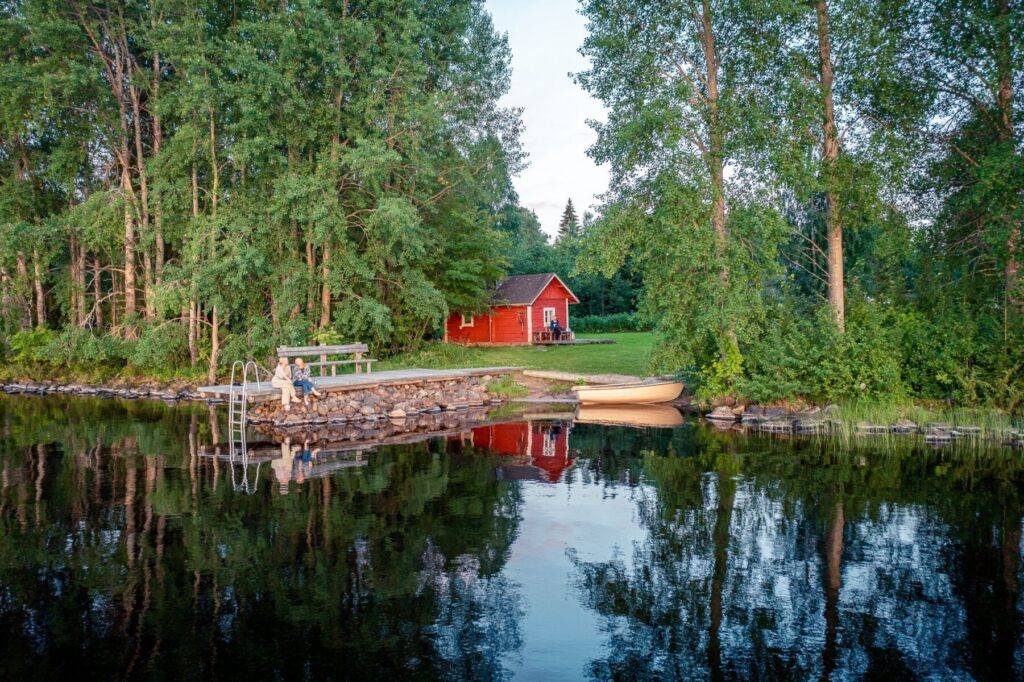 We favor local ingredients and products
We prefer local food from local suppliers in our restaurant. Our restaurant uses local suppliers for vegetables, eggs, bread, pastries, and fish from the neighboring lake. Bread, pastries, and homemade ice cream are also prepared in our kitchen. We pick our mushrooms and berries, and if we need more time to go hunting, we buy them from local suppliers. (Hotel Kalevala)
The Ärjänsaari kiosk's product range includes products from local producers, Huuskola ice cream, and Vuokatin Viini local beverages. We also favor local food when ordering catered meals. (Luonnollisesti Oulujärvi Oy)
We prefer local food and local products in our restaurant menus: game, lake fish, and salmon are produced in our village, including mushrooms and berries, according to the season. We use salads and herbs from our garden where possible. The drinks menu emphasizes the products from a brewery in the neighboring village. (Lentiira Holiday Village)
We love nature and all its flavors. We collect the mushrooms, berries, and herbs we use as raw materials from nature. We always prefer domestic ingredients and origin for other natural materials, such as fish, game, and root vegetables. (Arctic Giant)
We always keep local products, such as tea and beverages from Vuokatin Viini, in our selection. We prefer local partners and are happy to pass on their services. (Hotel Karolineburg)
Our restaurant, Kainuuravintola Kippo, specializes in local food and presents local food culture and the Kainuu dialect on its menu. Our chefs are trained in using wild herbs in cooking and preparing traditional game dishes. (Break Sokos Hotel Vuokatti and Original Sokos Hotel Valjus)
We prefer local products, such as Korpiporo products, Metsämuijan soaps and lotions and Sukkapuu's local handicrafts. (Hotel Ukkohalla)
We are happy to work with local entrepreneurs, promoting and recommending their services as part of our business. (Hotel Ukkohalla)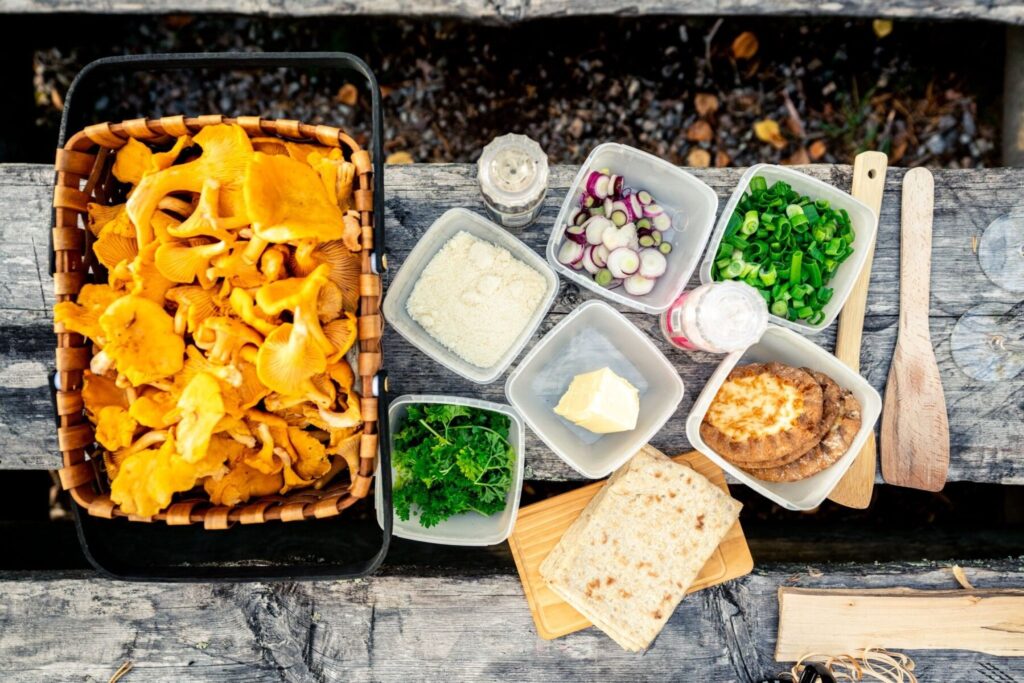 Reducing waste in food services and favoring quality and sustainability over cheap and disposable products
We offer food services only by order and keep the list interesting but short. The coffee machine brews organic dark roast coffee. In the sauna, we use washable seat covers instead of disposable ones. (Lentiira Holiday Village)
The coffee cups at the Ärjänsaari kiosk use Kupilka cups instead of disposable ones to reduce waste. (Naturally Oulujärvi)
We only use disposable dishes very judiciously and mainly use ceramic plates. Disposable seat covers in saunas have been replaced by cloth ones (Arctic Giant)
Our kitchen minimizes food waste and distributes any surplus deliverable food locally.  We compost other leftovers to make the beautiful Villa Cone Beach garden bloom for you. Long-life tableware has replaced single-use plastics and other disposable items. We serve high quality local food. In other words, food safety remains in our own hands. Since there is less need for transportation, spoiled food and extra emissions are not an issue. In the end, our up-to-date wastewater treatment systems ensure that nothing goes to the lake nor leaks into the ground. (Arctica Estates
In accommodations, we switched from disposable towels to ecological and sustainable seat covers. (Hotel Ukkohalla)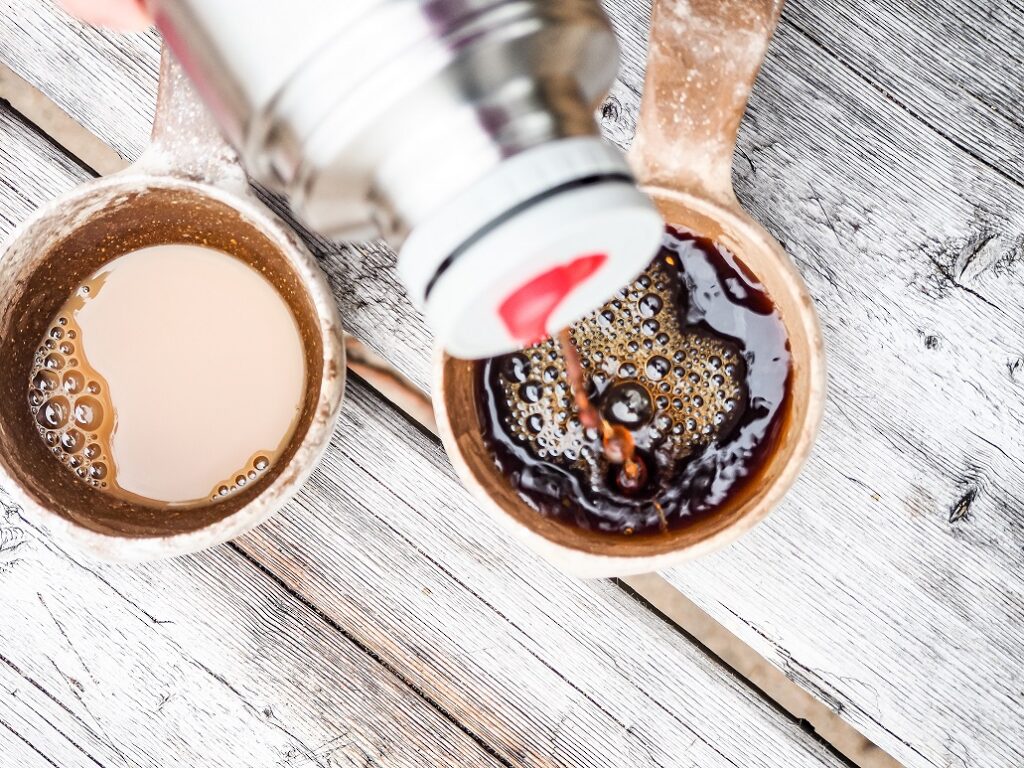 We pay attention to employing local people, using local services, and supporting local young people
We cooperate with local businesses providing programs, transport, nature, and guide services. Promoting tourism, increasing jobs, and making work profitable in the area is essential to us. (Hotel Kalevala)
We help our customers to discover the nearby nature. At our reception, we advise you on the adjacent ski tracks, the best snowshoe trails, and the most spectacular nature spots. We can also recommend and assist you with other local services. (Hotel Kalevala)
At Paljakka, we favor local labor and support local children's sporting activities by offering discounted season tickets to the slopes. We offer discounted equipment for the school sports club and flexibility in opening hours according to their wishes. We provide financial compensation for the local sports club through voluntary work. (Hotel Paljakka)
We want to develop the entire Kainuu region by promoting the traditions, nature, and history of the area. We will add information and highlights of the region (national parks, Eino Leino House, Kajaani Castle ruins, Hossa National Park, Raate Road, and Ärjänsaari) to our website. Through cultural cooperation, we want to enable the realization of high-quality cultural events in Kainuu. (Break Sokos Hotel Vuokatti ja Original Sokos Hotel Valjus)
We inspire local young people to discover the joy of movement and offer them a free ski school. (Ukkohalla Ski Resort)
We also favor local suppliers, e.g., for furniture purchases. For example, our beds are made at the Aito Kaluste factory in Kajaani. We also select local suppliers and subcontractors as much as possible for services (e.g., electrical and plumbing work and property maintenance). Restaurant Ainoa uses local suppliers of raw materials for its products. (Vuokatin Aateli)
We support local youth sports; we have a cooperation agreement with Vuokatti Team Sport. (Vuokatin Aateli)
Our village is our home. We hire village workforce as well as buy locally, whenever possible. Voluntary hours for the common good are our privilege. We all are proud of renovating the village communal building with funding from the Finnish Local Heritage Federation. We value our past, but we are not stuck in it; the fibre-optic network built by the villagers' co-op lets you connect with your loved ones during your stay. (Arctica Estates)
We take care of our staff's welfare by regularly organising well-being days, for example by taking exercise in the local nature, and we encourage our staff to develop their skills by enabling them to participate in training and study smoothly alongside their work. (Hotel Ukkohalla)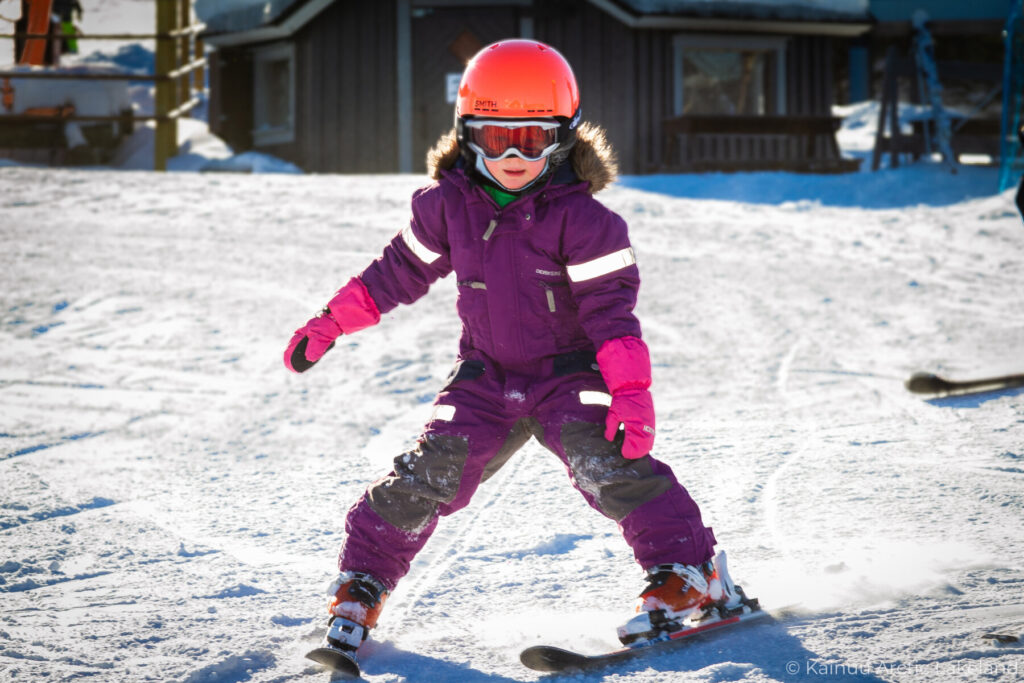 We welcome everyone regardless of gender, age, religion, sexual orientation, or anything else; come as you are!
Our staff has participated in the We Speak Gay Rainbow Training, which encourages diversity in our business, and we treat all our guests and staff equally and with respect. We are aware of the discrimination experienced by rainbow people in travel and want to actively communicate and work to make our business a safe space for all. We treat all our guests and staff with equal respect. We do not care about your background, nationality, religion, or sexual orientation, among other things. (Hotel Kalevala)
All guests are equal to us regardless of gender, religion, age, or any other personal characteristic. As a sizeable Finnish employer, we are also proud of the diversity of our staff and contribute to their development and well-being in many ways. (Original Sokos Hotel Valjus ja Break Sokos Hotel Vuokatti)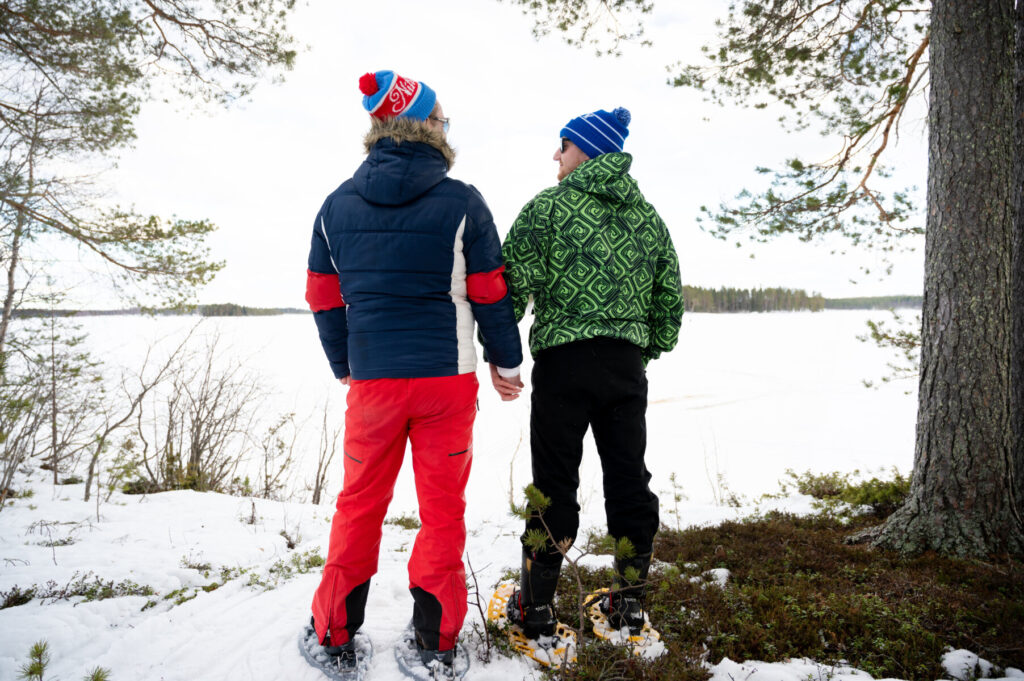 We want more and more people to enjoy beautiful Kainuu, taking their unique needs into account
We will increase the number of accessible accommodation and offer accessible nature experiences (e.g., canoe trips) (Kainuun Luontoretket)
We are aware of accessibility issues and take small steps to improve accessibility. The most recent is the construction of a staircase at the entrance so that wheelchair users can easily reach the main building. (Lentiira Holiday Village)
Hossa Nature Centre is accessible. We also offer our customers electric scooters and an off-road rollator. (Experience KL Oy)
Some of our accommodation is accessible, as is our main building where the restaurant is located. We also have an accessible hiking trail (1 km). (Arctic Giant)
For us, social responsibility also means accepting and treating people equally, and we do not tolerate racism in any form and support equality and gender equality. Our ski school has the most comprehensive equipment for adaptive alpine skiing in Finland. (Vuokatti Ski Center)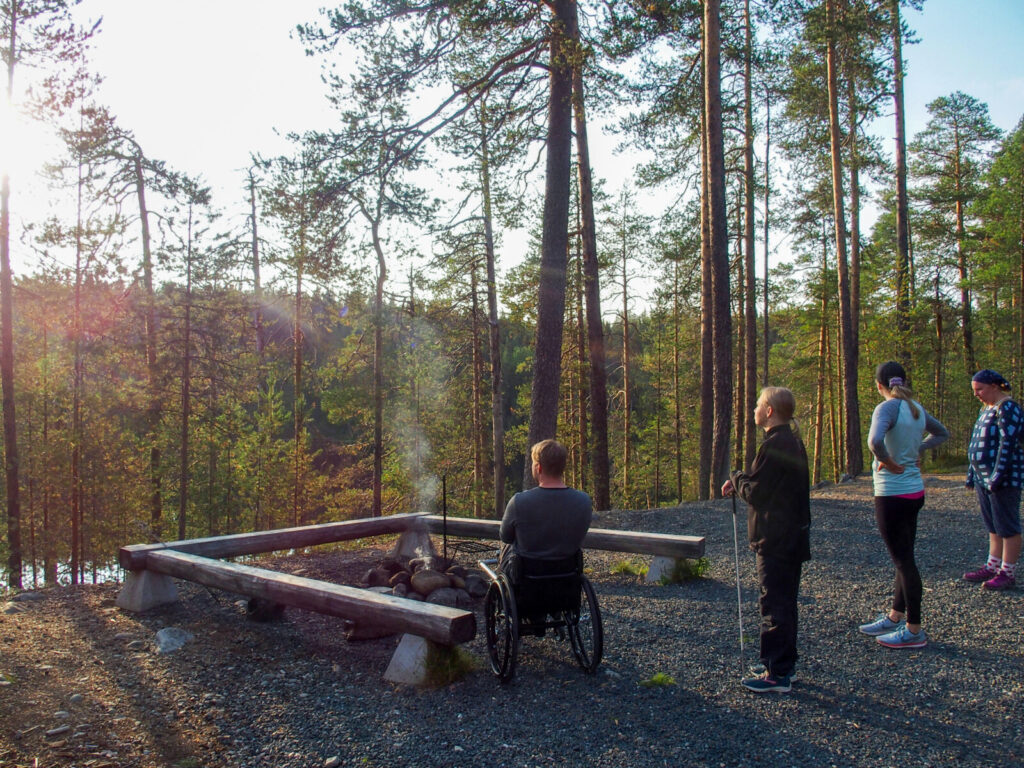 We pay attention to environmental friendliness in all our activities
We encourage longer stays through pricing and package primarily muscle-powered excursions. We only heat the sauna on request and not "just in case." (Lentiira Holiday Village)
We serve even better our customers arriving by train and bus instead of airplane. (Upitrek)
We are increasingly offering vegetarian options to our customers. (Upitrek)
We also use recycled but good-quality furniture and beautiful tableware in our cottage furnishings. (Loma-Hossa)
We don't always buy new (e.g., appliances, furniture) but try to repair the old and thus prolong the lifecycle of the products. (Vuokatin Aateli)
In addition to social responsibility, we have set a goal to become the first baseball team in Finland to aim for carbon neutrality. We have paid attention to waste sorting at match events and the ecology of the products we buy. We have also calculated the carbon footprint of the Sotkamon Jymy elite league travel and match events. From now on, we will build a strategic path to reduce our carbon footprint, step by step, regarding match events and travel, among other things. In addition to reducing emissions, we are committed to offsetting all emissions from travel and match events in Finnish forests in cooperation with Hiilinielurekisteri. (Sotkamon Jymy)
The hotel has an electric car charging point for our guests. (Vuokatin Aateli)
The Villa Cone Beach forests bind more carbon than is released by all our guests' trips. Furthermore, we buy only green energy. Our heating does not consume any fossil fuels indeed. On the other hand, our buildings are constructed to the highest standards. Therefore they have a long life and renovation needs are minimal. Wooden structures make you feel good and they store tonnes of carbon. Here you do not have to compromise on luxury and sustainability. (Arctica Estates)
We are aware of our responsibility as a nature-oriented tourist resort and we want to preserve the local nature and the culture by highlighting biodiversity and cultural heritage in our activities, such as nature tours. (Hotel Ukkohalla)
We maintain the Syväjoki eco-fishing area, which is one of Kainuu's natural fish recovery sites. (Hotel Ukkohalla)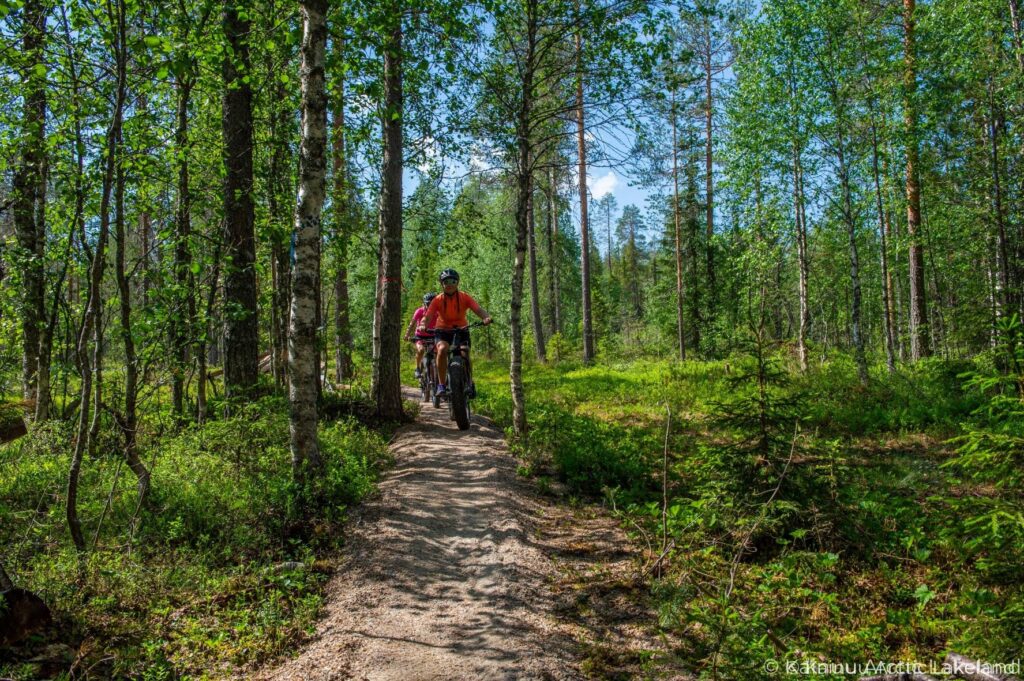 We actively communicate responsibility to tourists and encourage them to act responsibly during their visit
We encourage our customers to make responsible choices and give them small tips to reduce the environmental impact of their holiday. (Upitrek)
However, as a strong regional player, our most significant contribution to climate change mitigation is the power of example and the role of a messenger to influence the values of our community. (Sotkamon Jymy)
In our cottage folders, we tell our customers that, for example, tap water is safe to drink and can and should be used to fill drinking bottles for trips, and we give sorting instructions to customers. (Loma-Hossa)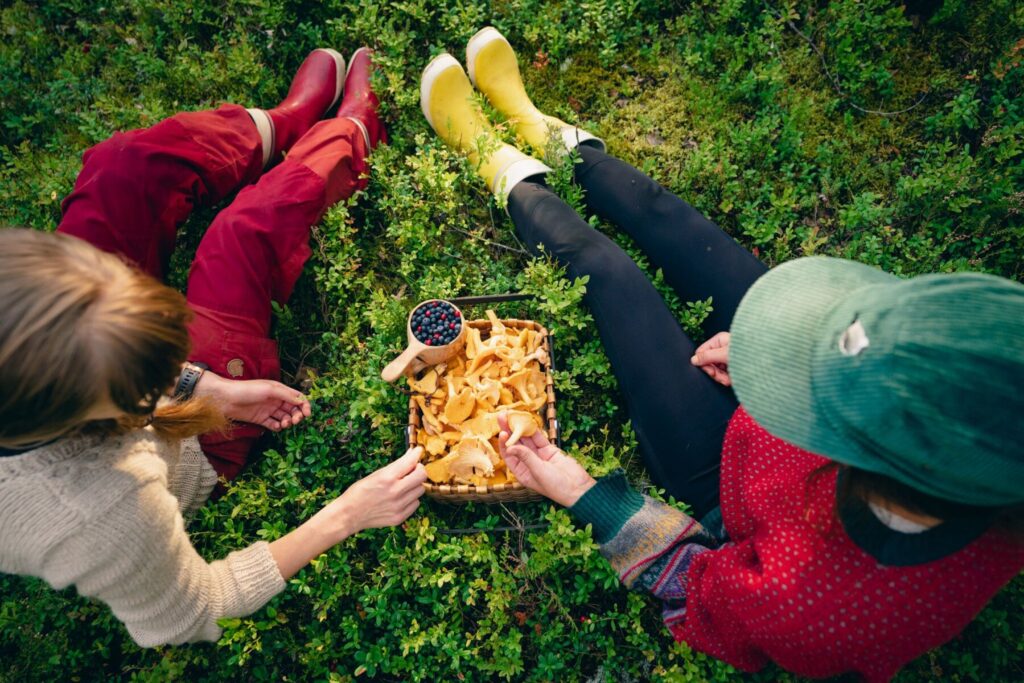 Several companies have already achieved certificates attesting to their sustainable and responsible operations. Several operators are on the path for or have already reached the Visit Finland Sustainable Travel Finland label.
On their way to achieve the label are Hotel Vuokatin Aateli, Taiga Spirit, Arctic Giant, Lentiira Holiday Village,Loma-Hossa, Hossan Lumo, Kotomo Oy, Kainuun Opisto, Arctica Estates, Kalevala Experiences, Martinselkosen Eräkeskus, Hotel Kainuu, Hotel Kajaani, Bear Centre, Experience KL Oy, Vuokatinrinteet, Ukkohalla Ski Resort and UGGO Events Oy.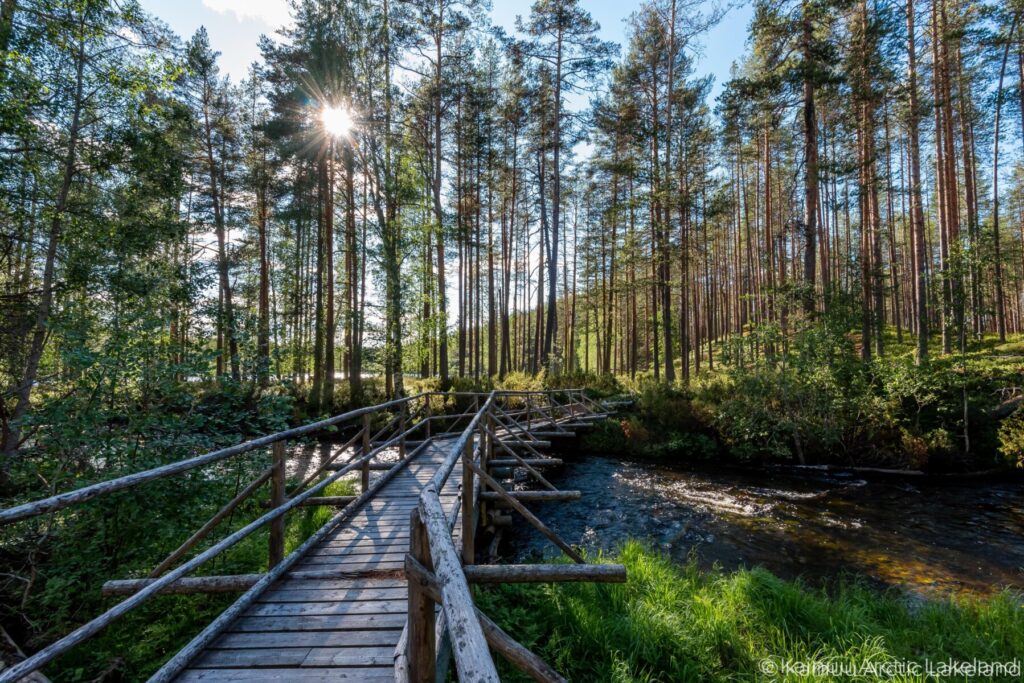 You, as a traveler, can make a difference!
When you arrive in the area, please favor public transport.
Sort your rubbish in the bins provided and remember to take your trash away when hiking in the beautiful nature of Kainuu.
Favor local services and products.
Indulge in muscle-powered activities – enjoy hiking, cycling, skiing, canoeing, and more.
Turn off the lights when you leave your room in your accommodation.
Ask service providers to tell you what they do to promote responsibility.
For example, put whatever you like on your plate at breakfast, but only as much as you can eat. That way, you reduce food waste.
Compensate your trip, for example Finnair offers its customers the possibility to offset their carbon dioxide emissions from their flights. Find out more here.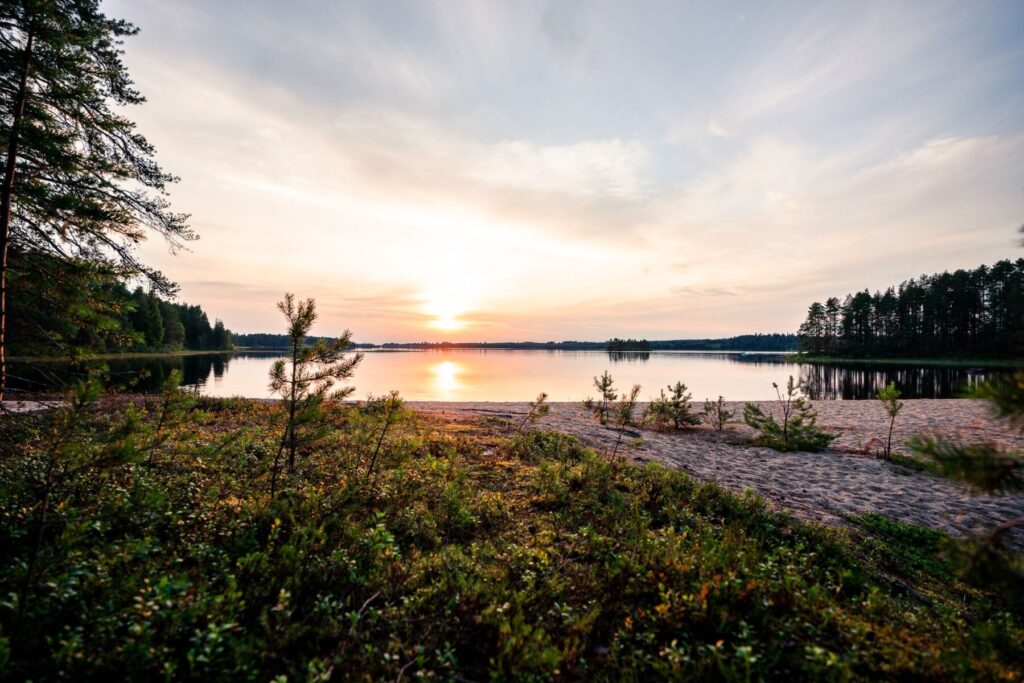 In addition to private operators, regional development organizations as well as tourist regions are also actively working to promote responsible practices. Kajaani University of Applied Sciences is involved via various projects to promote the development and communication of responsible tourism and sustainable practices.
The main objective of the Responsible Arctic Lakeland – Kainuu Tourism Region project (ESF) is to help the tourism operators in the area increase their responsibility through training and raising awareness. The project highlights cooperation between different actors at the provincial, Lakeland region, and national levels, aiming to enhance the reputation of the tourism destinations in the area as well as Arctic Lakeland Kainuu as a responsible destination.
REMAC (Karelia ENI CBC): the project will look for new ways to treat wastewater sludge from decentralized urban areas in the most sustainable way. A technological trial on remote monitoring of wastewater wells has been organized as part of the project. The aim is to help waste producers and treatment operators obtain better situational information on the filling rate and emptying needs of septic tanks. This will allow better planning of sludge runs, saving fuel, reducing the CO2 footprint, and helping the receiving facility manage the process.

See also: