Arctic Lakeland is situated where Lakeland and Lapland meet, only 650 km from capital city of Helsinki. These fascinating holiday destinations await you in Arctic Lakeland area: Vuokatti, Wild Taiga, Kuhmo, Suomussalmi, Paljakka, Ukkohalla and Kajaani-Lake Oulujärvi.
You can fly from numerous destinations worldwide directly with Finnair to Helsinki and continue your journey to Kajaani. The estimated flight duration from Helsinki to Kajaani is 1 h 20 h. From Kajaani airport, with the rental car you can continue further to specific tourism destination or locations.
More info of arrival to the area. https://arcticlakeland.com/en/arrival/
In Arctic Lakeland you will experience both the southern and northern landscapes of Finland – large lakes, lush hills, rugged gorges, rocky hillsides and National Parks can be seen during one trip. In summer, Arctic Lakeland is a holiday paradise with blue lakes, sandy beaches, evergreen pine-covered forests and clean waters. Animal observation and photography surroundings are one of the best, get up close and photograph bears and other carnivores in their natural habitat. Vuokatti is also known as all-year-round-winter destination.
The deepest roots of Finnish culture and the tradition of Kalevala epic lives and thrives today with our cultural offerings consisting of charming events, experiences and places to visit, especially in Kuhmo, the UNESCO City of Literature.

Welcome to the heart of Finland and meet the happiest people in the world!
Experience the spirit of Arctic Lakeland in the purest way and with local people.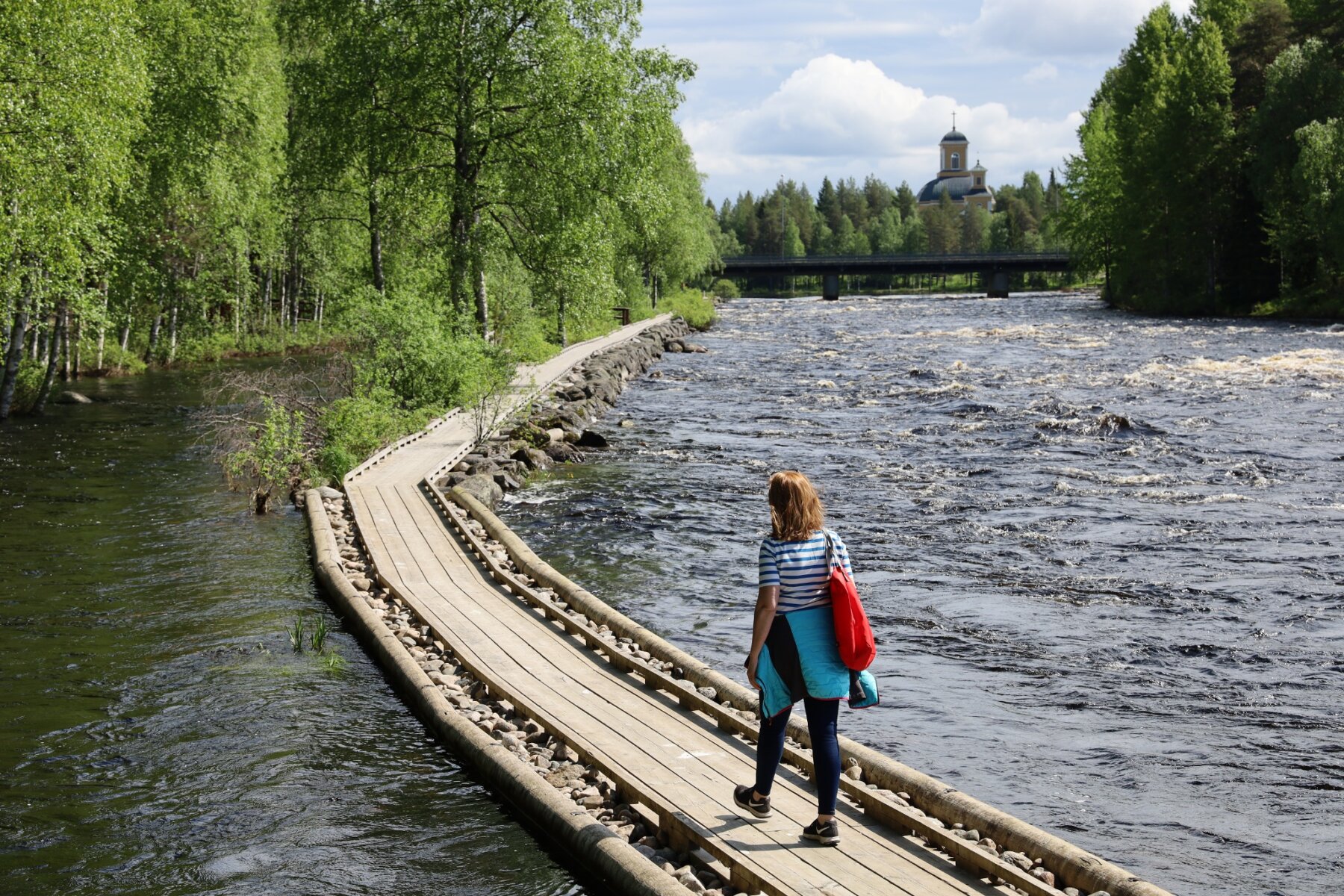 ITINERARY
Total of 551 km
DAY 1 Kajaani
DAY 2 Kajaani – Paltamo 38 km
DAY 3 Paltamo – Paljakka 43 km
DAY 4 Paljakka – Ukkohalla 27 km
DAY 5 Ukkohalla – Hossa 137 km
DAY 6 Hossa – Kuhmo 196 km
DAY 7 Kuhmo – Vuokatti 69 km
DAY 8 Vuokatti – Kajaani 34 km
DAY 1 KAJAANI
Flight from Helsinki (HEL) to Kajaani airport (KAJ). Or choose to drive from Helsinki (HEL) 6,5 hours or train connection 6-7 hours.
Kajaani is the most populous town and the capital of the Arctic Lakeland region (Kainuu) of Finland. Visit the 370-year-old Kajaani City along river Kajaaninjoki and by the lake Oulujärvi. The lakeside lanscape is surrounded by sandy beaches and archipelago spurs. City is known for its diverse cultural, literature, pure nature, music and events.
Bucket list today:
Island Ärjänsaari in the Lake Oulujärvi, called the pearl of Oulujärvi and an island of paradise is reachable by the steamboat or by local entrepreneur boat transportation. Powered by a real wood-fired steam boiler, the 100-year-old and the northernmost steamship that crosses the surface of the water is an atmospheric environment to spend a summer day on a scenic cruise in beautiful Lake Oulujärvi or daycruise to Island Ärjänsaari. Steamship Kouta cruises

Kajaani Castle Ruins is the northernmost stone castle in the world located in the island of city centre and the park along the river.
Kajaani Castle Ruins
Explore the only tar channel in operation in the world. Tar was mainly produced and traded from the 16th hundreds to 18th hundreds. Nowadays during the summer, tar rowing local events are held on the canal, using narrow and long wooden boats in the original style. Today tar is being used for example in different desserts, a water repellent coating for boats and roofs and even as a sauna scent. Tar Canal
Accommodation options:
Original Sokos Hotel Valjus
Scandic Kajanus
Manor House Hotel Karolineburg
Arctic Lake Experience Oulujärvi Igloos
Restaurant options:
Restaurant Sulo
Restaurant Ranch
Café Karolineburg
Over hundred years old family owned local cáfe and bakery Pekka Heikkinen & Kumpp. Oy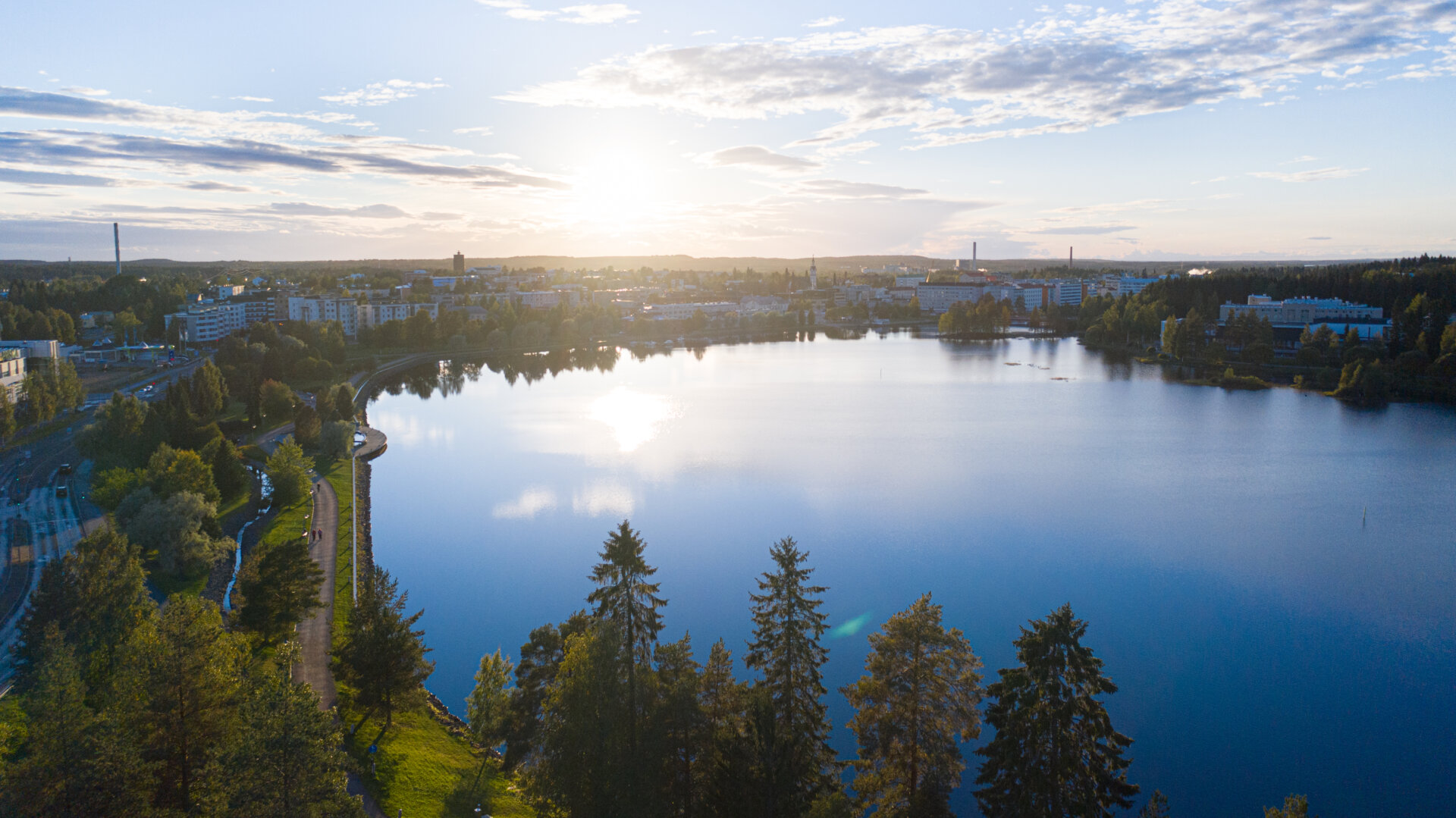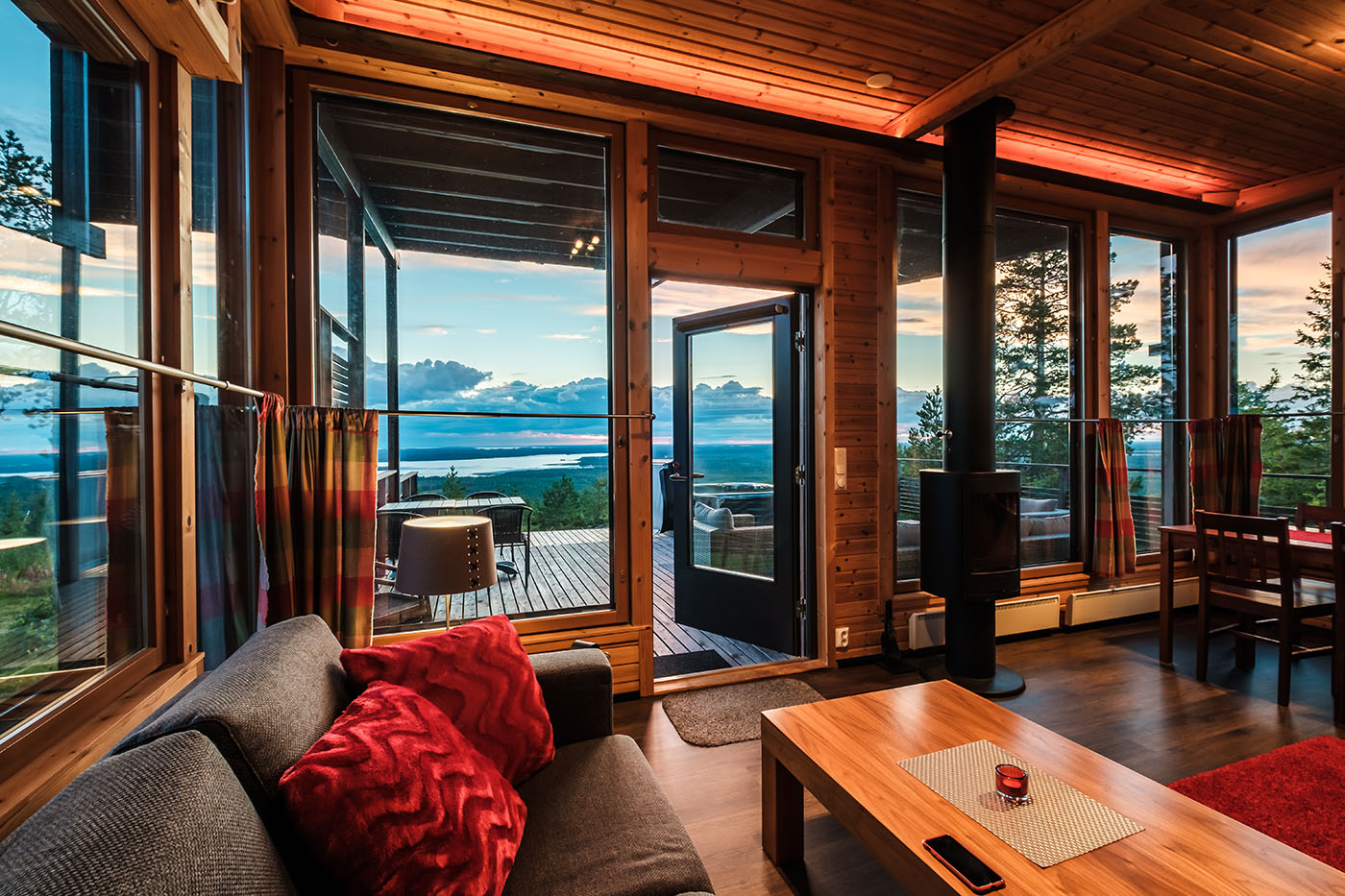 DAY 2 KAJAANI – PALTAMO 38 KM
Paltamo welcomes travellers to "the land of giants" with beautiful natural landscapes and the shores of Lake Oulujärvi. Five of the ten talest men in the world were European and of that five, three were from Finland. The roots of all three men stretch all the way here, Paltamo were tales come alive. Lake Oulujärvi is the fifth largest lake in Finland and is therefore often called the Sea of Kainuu.
Bucket list today:
Outdoor activities of the area surrounding the Kivesvaara hills: e.g. hiking (Kainuu rock park), fishing and fatbiking. Arctic Giant activities
On a guided riding trek, you will get to know and learn about the Icelandic horse, including their unique gait – 'Tölt.' Or ride of into finnish nature and enjoy the brisk going and nice time together with riding icelandic horse. Hóll talli
Welcome to Finland's most beautiful golf course where the magnificent natural landscape with its cliffs, woods and the shores of Lake Oulujärvi have determined the location of the fairways. The golf course has been awarded as one of the most beautiful in Finland. Paltamo Golf
Accommodation options:
Arctic Giant Birdhouse Hotel Jättiläisenmaa
Kotomo
Restaurant option:
Scenic summer restaurant Paltamon Sydän
DAY 3 paltamo – paljakka 43 km
Paljakka versatile nature offers nature in all its forms; hills, forest, lakes and streams. On the top of Paljakka hill you are greeted with wonderful views extending far into the horizon. Relax or be active in the peaceful natural surroundings of an amazing primeval forest embrace.
Bucket list today:
The Paljakka Nature Park is the only area in the Arctic Lakeland (even the only one in Finland) where there are still large areas of untouched forests. In Paljakka you visit Europe's oldest primeval forest.
Paljakka Nature Park
Hepoköngäs is one of Finland's highest waterfalls and is most impressive in spring and early summer. This accessible waterfall has won two awards in Finland: the Most Beautiful Waterfall in Finland 2014 and Finland's Nature Site to Visit 2022 Hepoköngäs waterfall
Paljakka Outdoor activities: e.g. hiking (highlighting Paljakka Nature Park), fishing (highlighting Paljakka Fishing Park) and mountain biking / fatbiking. Things to do
Accommodation options:
Hotel Paljakka
Lake Resort Paljakka
Kotipaljakka apartments
Restaurant options:
Restaurant Riekko
Summer Restaurant Villas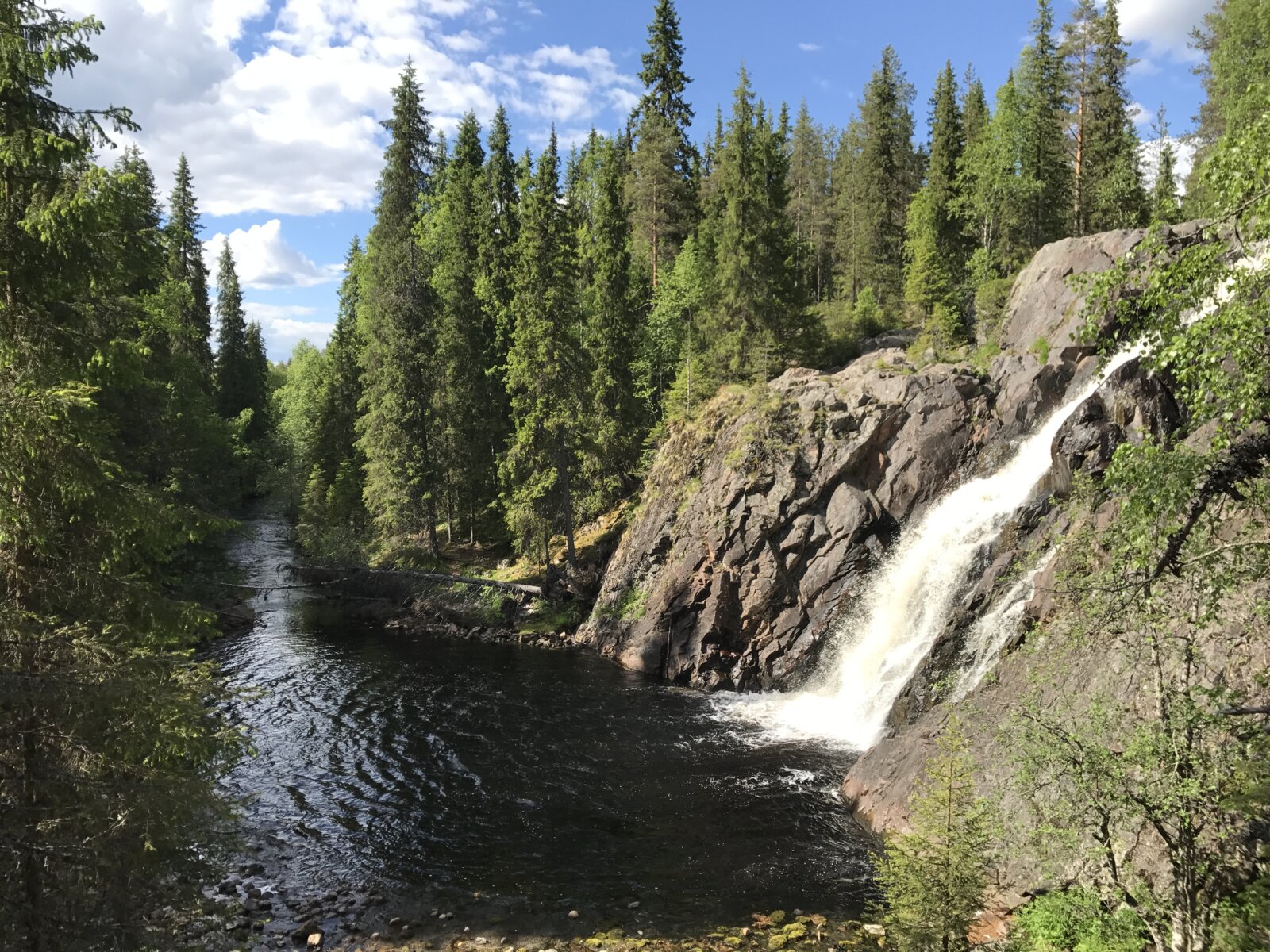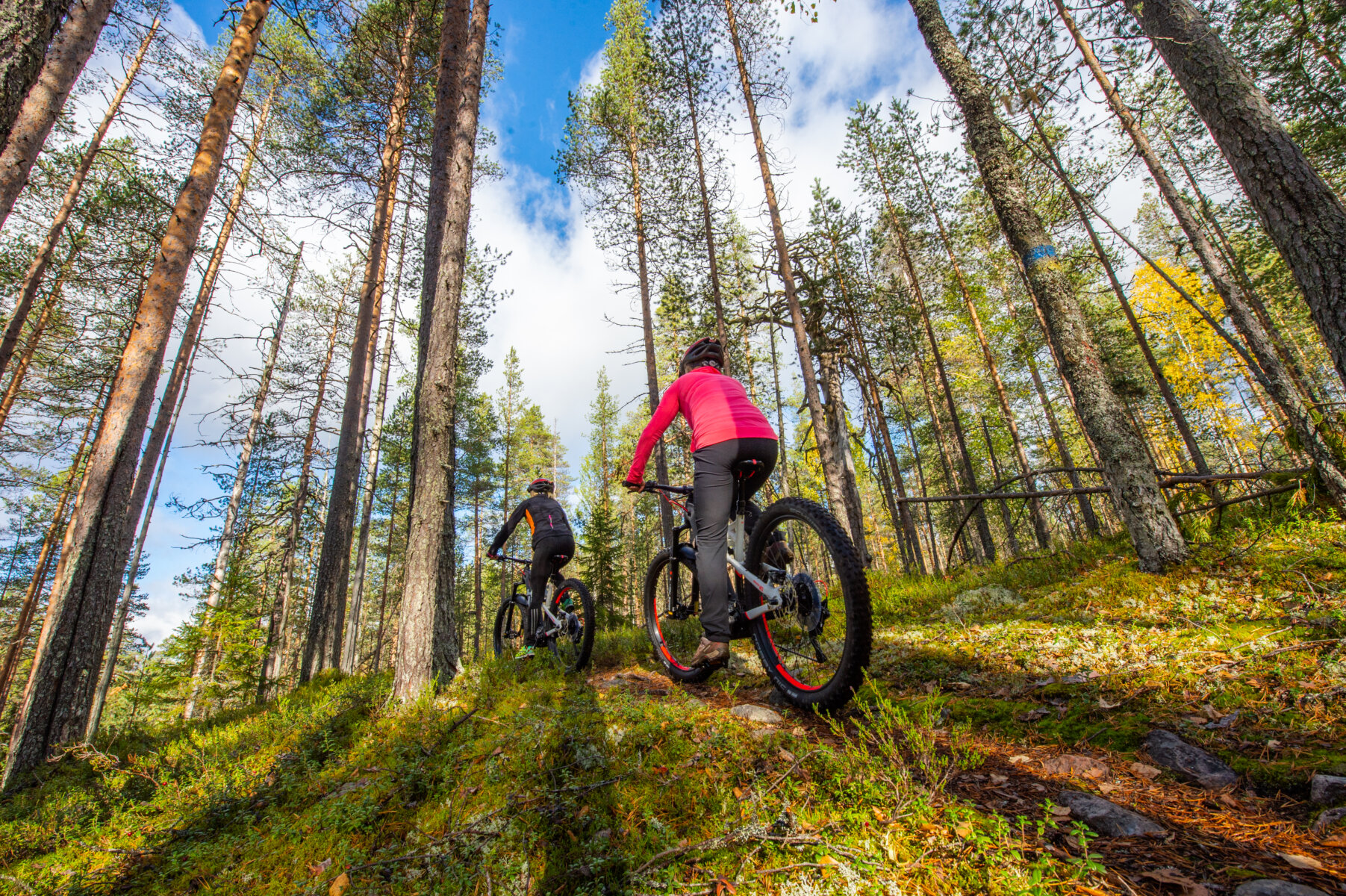 DAY 4 Paljakka – ukkohalla 27 km
Ukkohalla is a unique all-year round holiday destination on the shores of Lake Syväjärvi and next to the highest ridges of Arctic Lakeland Kainuu. At Ukkohalla the wilderness is truly just at your doorstep and everything is easily accessible by walking. Destination for your dream holiday!

Bucket list today:
Ukkohalla Outdoor activities: e.g. hiking (highlighting Paljakkavaara observation tower), water activities (highlighting Cable Wakeboarding, SUP and pedalo) and mountain biking. Ukkohalla Resort
Komulanköngäs is a gorgeous and a picturesque V-shaped waterfall and in itself a great piece of the area's wilderness. The waterfall is at its best in April and May, during the spring floods. Komulanköngäs waterfall
SaunaWorld is the perfect place to relax and unwind in the beautiful scenery of lake Syväjärvi after outdoor day. Nine different indoor and outdoor saunas and spa with refreshing pools with massage equipment relax your body and mind. Ukkohalla Spa and Saunaworld
Accommodation options:
Apartment Hotel Ukkohalla
Sky Cabin Glass Suite
Lake Igloo Ukkohalla
Holiday Apartments and cottages Ukkohalla

Restaurant options:
Restaurant Hallan Karhu
DAY 5 ukkohalla – Hossa 137 km
The landscape of Hossa National Park was already enjoyed during the Stone Age. The popular hiking area was appointed a national park in honour of the centenary of Finland. Hossa National park offers visitors a easy-to-follow guided trails, ridges with steep slopes, flowing streams and clear-water lakes.
Bucket list today:
The almost one thousand strong band that makes up the Silent People (art installation) suddenly emerges before the passing motorist like some great stroke of magic. Remember to keep your eyes open at road 5 between Suomussalmi and Hossa! The Silent People and Cafe

In Hossa, the mystical rock paintings of Värikallio, the lichen forest, and Finland's greatest canyon lake Julma-Ölkky, are unparalleled attractions for their uniqueness and beauty.
Rock paintings and canyon lake Julma-Ölkky

Hossa Visitor Centre and its special exhibitions provide introductions to the area's unique nature with good tips about the destinations in the national park and for choosing paths. Hossa Visitor Centre
Travelling down the road Raatteentie, you'll be taking a walk through an impressive array of Finnish war history. This trip will no doubt leave the viewer with an unforgettable impression.
Winter war museum Raatteen Portti and Raate road
Accommodation options:
Hotel Kiannon Kuohut, Suomussalmi
Hossa's versatile range of accommodation
Wild Eco Camp Seipiniemi, Hossa
Martinselkonen Wilds Centre, Ruhtinansalmi

Restaurant options:
Restaurant Kultainen Kukko, Suomussalmi
Hossa Reindeer park and restaurant, Suomussalmi (Hossa)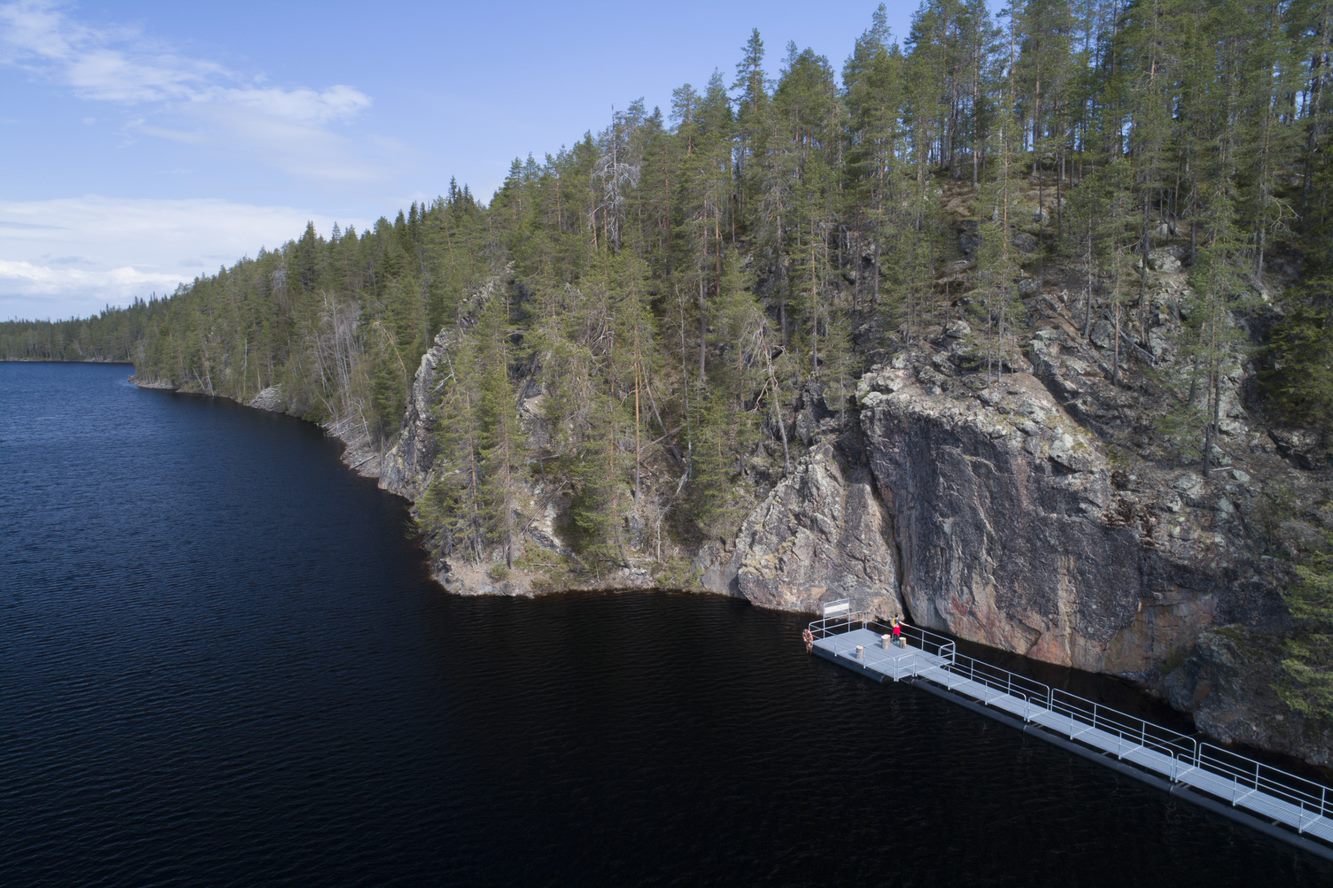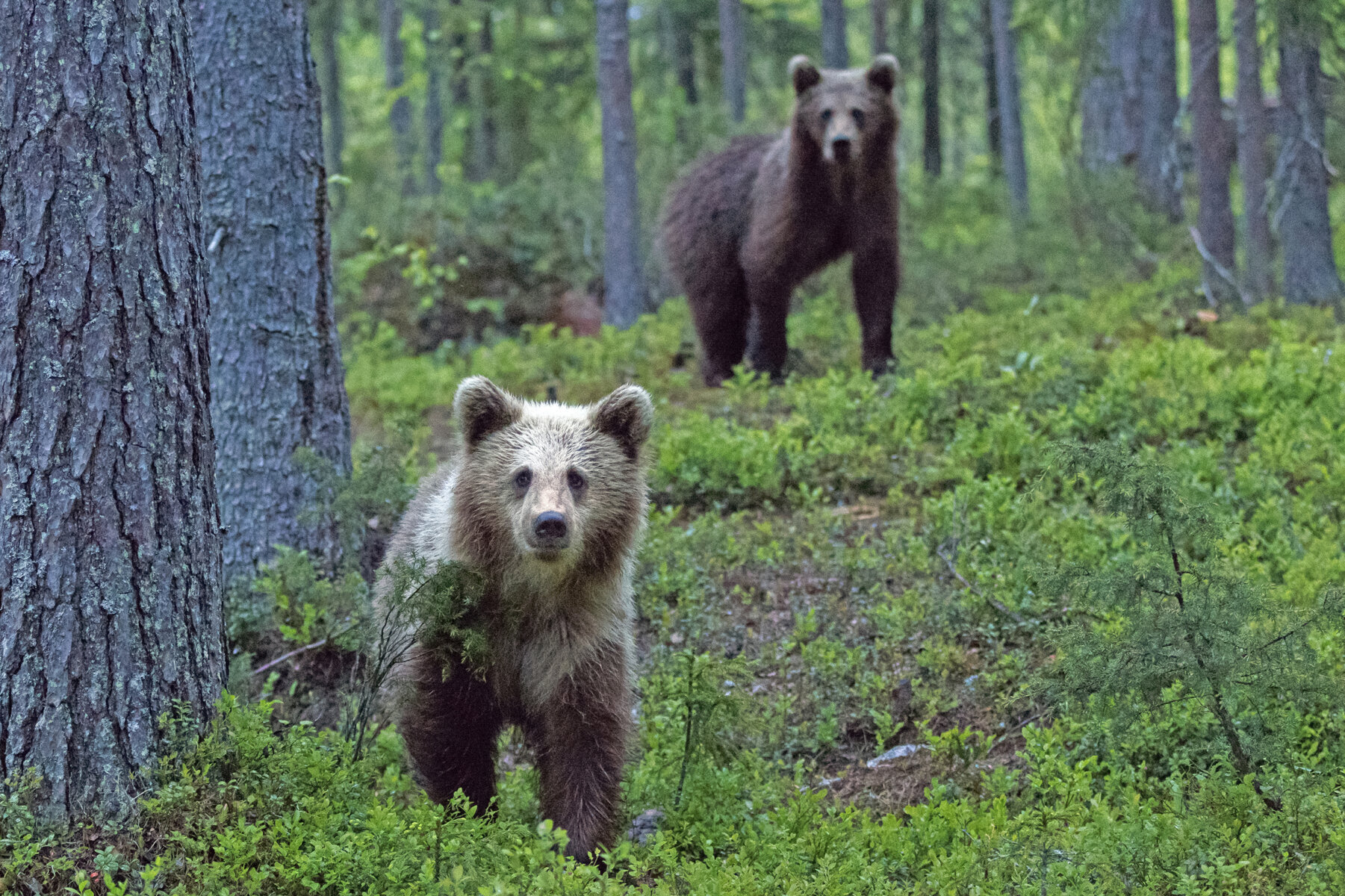 DAY 6 hossa – kuhmo 196 km
Kuhmo, UNESCO City of Literature and one of the best places to see carnivores in their natural habitat. The natural surroundings, magnificent fauna and cultural heritage are an essential part of the image of this wilderness town. Whether an uncompromising wilderness enthusiast or gathered together to relax and enjoy cultural wellbeing, you will sure have a delightful stay in the area.
Bucket list today:
Juminkeko, Information Centre for the national epic of Kalevala and Karelian Culture. This Cultural Centre is also an exquisite example of the Finnish wooden architecture. Juminkeko Information Centre
Visitor Centre Petola, get to know the Finnish large carnivores: brown bear, wolf, lynx and wolverine. Learn how they look and sound like, what their tracks look like and how they move. Kuhmo Visitor Centre Petola
Meet with the majestic wild brown bear and other predators native to the wild taiga forest! Choose overnight trip or evening hide excursion from variety of hides offered by multiple wildlife companies. Wildlife watching and photographing trips
Traditional treatments and pampering, such as peat massage and herbal-scented sauna therapy, are available in the skilled hands of a local naturopaths. Comprehensive wellness programs in the spirit of forest yoga and calming down. Also traditional smoke sauna is available. Wellness at Lentiira
Accommodation options:
Hotel Kalevala, Kuhmo
Hotel Kainuu, Kuhmo
Wide range of accommodation
Lentiira Holiday Village, Lentiira
Restaurant options:
Restaurant Kanteletar, Kuhmo
Kaesas café and bakery Kaesan Kotileipomo, Kuhmo
Restaurant Pirtti, Lentiira
DAY 7 kuhmo – vuokatti 69 km
When you arrive in Vuokatti, you will be greeted by the magnificent Vuokatinvaara hill, where you can admire the far-reaching scenery. Vuokatti is the only Finnish resort offering all-year-round winter activities. The world's first skiing tunnel, built in 1998, offers the possibility to practice cross-country skiing all year round. One of the best sand beaches in Finland, the Hiukka beach by the lake Sapsojärvi.
Bucket list today:
The most versatile holiday resort in the Nordic Countries, Holiday Club Katinkulta provides you with the opportunities to enjoy practically any kind of recreation, from golf to fitness training and bowling. Harmony Spa, spa water park and sauna world is a paradise of pampering and treatments after activities. Enjoy variety of sauna while top your stay with little indulge moment or enjoy 20 different pools, hot tubes and massage showers. Holiday Club Katinkulta
Destination Vuokatti charms with versatile nature activities and wellbeing options. Try fishing, hiking, mountain biking, golf or husky mercedes ride. You can enhance your nature experience with a guided nature trail or pop into the national park. In the area you will find Hiidenportti National Park and Tiilikkajärvi National Park. In hot summer days nothing can be better than dive into water on Hiukka beach. Sotkamo-Vuokatti outdoor trails
In the Sotkamo center you can find a Finnish baseball arena, Marjex Stadion. The local baseball team "Sotkamon Jymy" is one of the best teams in Finland and has won the national championship 19 times. During summer, baseball games of the highest national league take place regularly at the arena. In summer 2022 you can also enjoy summer theater and music concerts at the Marjex Stadion.
Accommodation options:
Holiday Club Katinkulta
Break Sokos Hotel Vuokatti
Hotel Vuokatin Aateli
Vuokatti Sport Resort
Hotel Vuokatti
Vuokatti accommodation services

Restaurant options:
Restaurant Kippo
Restaurant Ainoa
Restaurant Haapala B&B
Restaurants of Holiday Club Katinkulta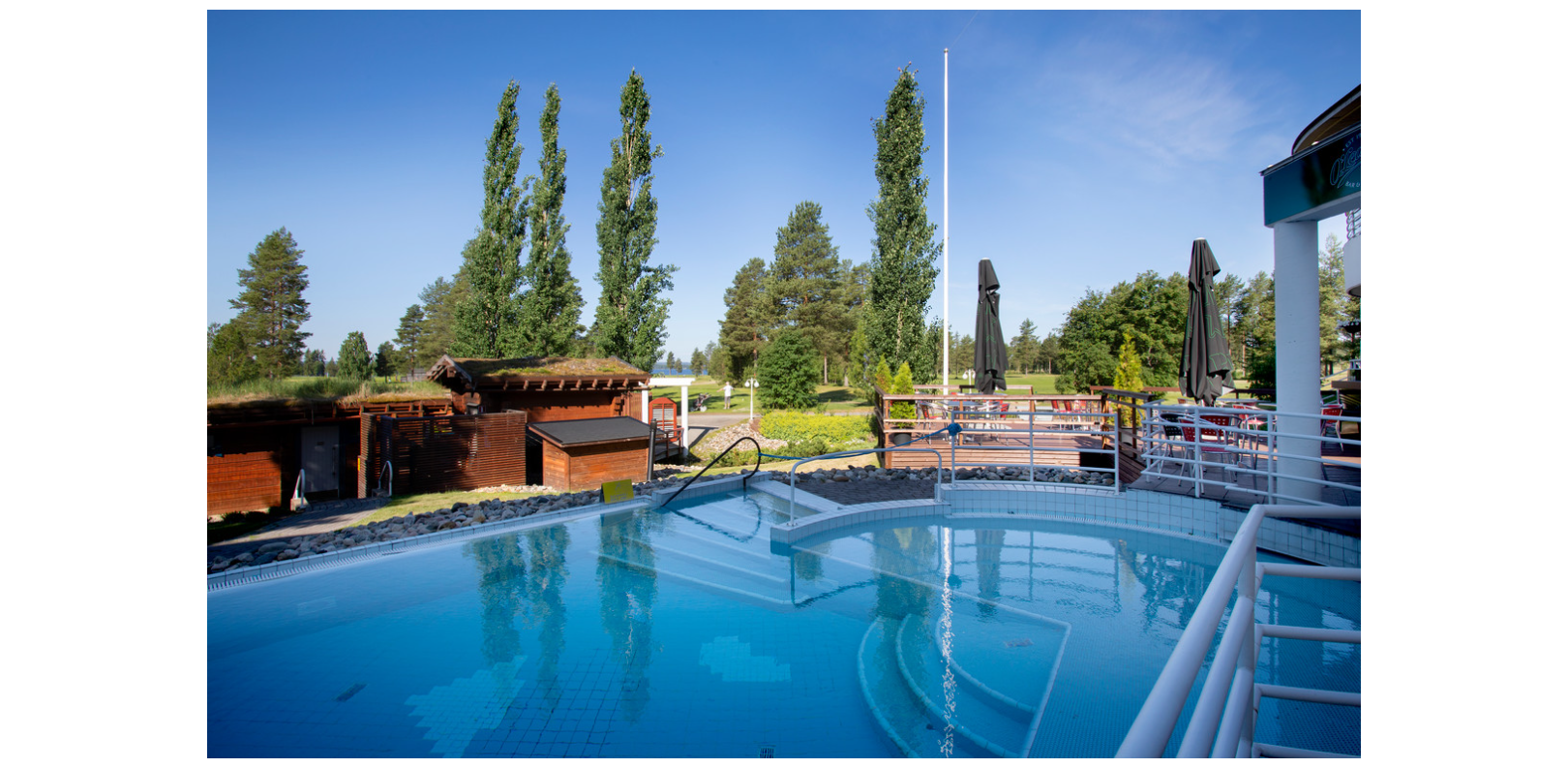 DAY 8 vuokatti – kajaani 34 km
Home journey
Departure from Kajaani airport (KAJ) to Helsinki (HEL). Or choose car services or train to Helsinki.
If you have time to explore the city of Kajaani before returning, we suggest to check Day 1 budget list ones again or choose our highlighting nature and culture routes below:

Experience the natural and cultural sights of Kajaani along the trails besides the river Kajaanijoki. The Renfors Route

Demanding but short adventure and nature trail leading over fields of stone and to rock caves. Unique view over lake Oulujärvi from the top of Akkovaara hill. Akkovaara family excursion – About devils and giants 2 km
Along this walk you will follow in the footsteps of Finland´s famous writer Eino Leino while taking in the beautiful countryside and history of Paltaniemi village. Eino Leino cultural walk, 2 km
SALES AND BOOKING (DMC)
Kalevala Tours, sales@kalevalatours.fi, +358 8 6554405 (1174/16/Mj)
MORE INFORMATION FROM TEAM ARCTIC LAKELAND (Regional DMOs)
Kajaani-Lake Oulujärvi: Milja Korhonen, milja.korhonen@kajaani.fi
Paljakka: Leena Penttinen, leena.penttinen@puolanka.fi
Ukkohalla: Jussi Kiiskilä, jussi.kiiskila@ukkohalla.fi
Hossa-Suomussalmi: Tiia Mustonen, tiia.mustonen@suomussalmi.fi
Wild Taiga, Kuhmo-Suomussalmi: Assi Heikkinen, assi@wildtaiga.com
Vuokatti: Aija Laukkanen, aija.laukkanen@vuokatti.fi
Arctic Lakeland coordinator: Hanna Linjala, hanna.linjala@kamk.fi