Finnish Lakeland is the treasure trove of gastronomy and culture. East and west meet here in many different ways. Explore the fresh and pure tastes, check the restaurants in the Capital of European gastronomy, dive into the rich culture and feel the local lifestyle.
Welcome to meet the happiest people in the world and share the mouth watering experiences.

ITINERARY
Total of 1 574 km
DAY 1 Lappeenranta
DAY 2 Lappeenranta – Pulsa – Lemi- Imatra 111 km
DAY 3 Imatra – Parikkala – Punkaharju 93 km
DAY 4 Punkaharju – Kerimäki – Savonlinna – Punkaharju 70 km
DAY 5 Punkaharju – Heinävesi – Joensuu 187 km
DAY 6 Joensuu – Ilomantsi – Nurmes (- Valtimo) 253 km
DAY 7 Nurmes – Koli – Nurmes 153 km
DAY 8 Nurmes – Kuhmo 81 km
DAY 9 Kuhmo – Kajaani – Kuopio 272 km
DAY 10 Kuopio
DAY 11 Kuopio – Varkaus – Mikkeli 182 km
DAY 12 Mikkeli – Puumala – Ruokolahti – Lappeenranta 172 km
DAY 13 Lappeenranta
DAY 1 Lappeenranta
Fly to Lappeenranta (LPP) or drive from Helsinki (HEL) 2,5 hours.
Rich in cultural history, with numerous museums and Finland's oldest orthodox church located within the Fortress of Lappeenranta. Lappeenranta today is the administrative, cultural, and commercial centre of South Karelia with highlights of all-year-round events.
Bucket list today:
Guided tour in Lappeenranta Fortress organised by Saimaa Travel. Surrounded by the ramparts, this historic district represents the original town which began as a medieval trading centre during the Swedish regime in 1649. Lappeenranta Fortress
Accommodation options:
Hotel Rakuuna
Original Sokos Hotel Lappee
Salpalinjan Hovi
Restaurant options:
Ship restaurant Princess Armaada in the heart of Lappeenranta, in the harbour. Prinsessa Armaada

Restaurant Upseerikerho – Every dish is handmade in the restaurant, exploiting local ingredients. The menu includes unforgettable tastes and special dishes that it's hard to find anywhere else.
Restaurant Upseerikerho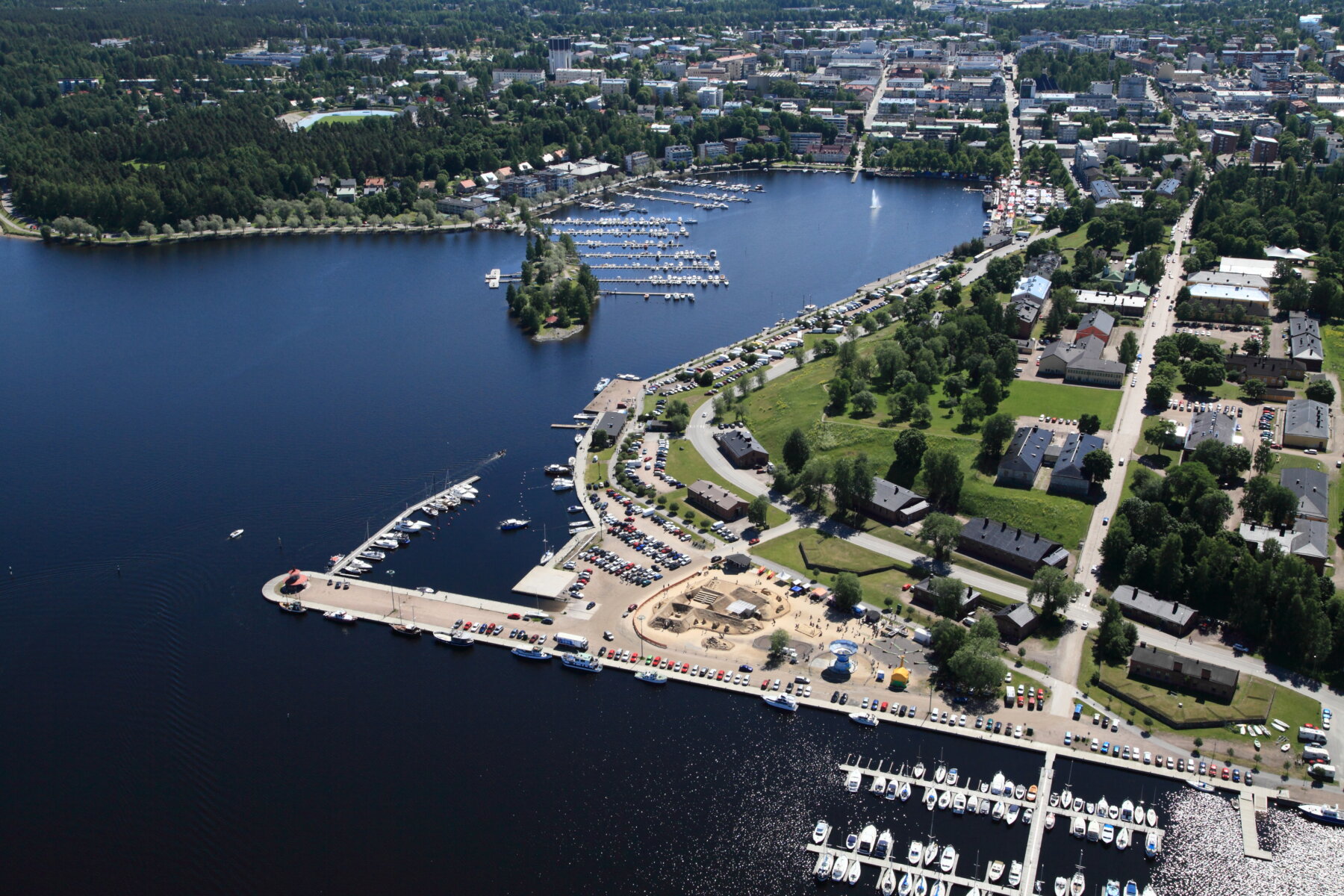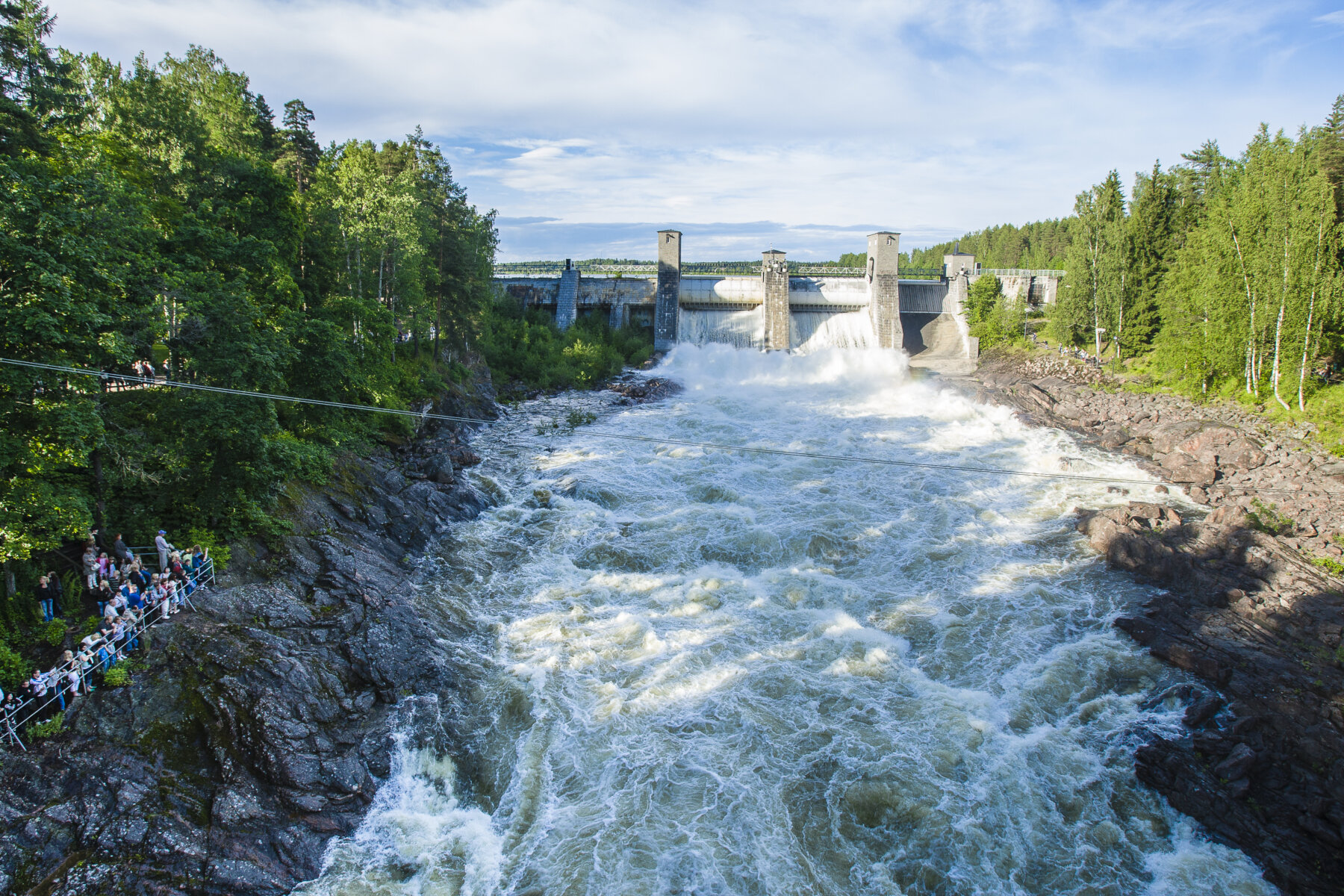 DAY 2 Lappeenranta – Pulsa – Lemi – Imatra 111 km
Find yourself exploring also the surrounding areas of Lappeenranta, the idyllic municipalities full of culture and sites. Your holiday would not be complete without tasting "Särä" made in Lemi – it truly is one of Finland's seven wonders.
Bucket list today:
Visiting Pulsa Station boutique cafe is a hop to the rural culture. Pulsa station ages till 1867 and it is an idyllic old railway station, offering hospitality and relaxation only 20 kilometres from Lappeenranta.
Pulsa station
The first tourism destination of Finland and one of the biggest rapids in Europe is Imatrankoski. The main sight of Imatra is located in the city center. While watching the rapid show, enjoy the music accompanied by the fresh steam. Imatrankoski Rapids
The fascinating history and interesting periods get more interesting with a guide. Guided tours in Imatra
Accommodation options:
Holiday Club Saimaa
Imatran Kylpylä Spa Resort
Restaurant option:
Lunch at Säräpirtti Kippurasarvi in Lemi is a must – Särä is a unique experience, prepared using a thousand-year-old recipe, this traditional lamb roast is cooked over 9 hours and there are no limits on portions – just enjoy. Säräpirtti Kippurasarvi
DAY 3 Imatra – Parikkala – Punkaharju 93 km
The Punkaharju ridge area is one of the oldest nature reserves in the world and one of the most beautiful parts of Finland. The unique combination of impressive eskers and stunning lake views has for centuries inspired artists and attracted travellers.
Bucket list today:
Parikkala Sculpture park is an outdoor museum, an art collective representing around 560 different sculptures known also as a paradise garden. Parikkala sculpture park
Lusto – The Finnish Forest Museum is a museum with exhibitions on the significance of forests in the Finnish society and their role in the life of Finnish people in the past and present. The Finnish Forest Museum Lusto – Sense of the Forest
Saimaa Art Cave Retretti is a unique art centre hosting national and international art exhibitions with most of its exhibition space in caves and underground galleries. Saimaa Art Cave
Accommodation options:
Hotel Punkaharju
Kruunupuisto Punkaharju
Holiday Resort Harjun Portti
Restaurant options:
Try famous bison burgers and local delicacies for lunch in Parikkala.
Iloisen Pässin Maalaispuoti
Restaurant of Hotel Punkaharju offers high-quality food with many of the ingredients coming from local farms, nearby forests and Lake Saimaa. Mushroom dishes are prominent in the restaurant's à la carte menu. Hotel Punkaharju Restaurant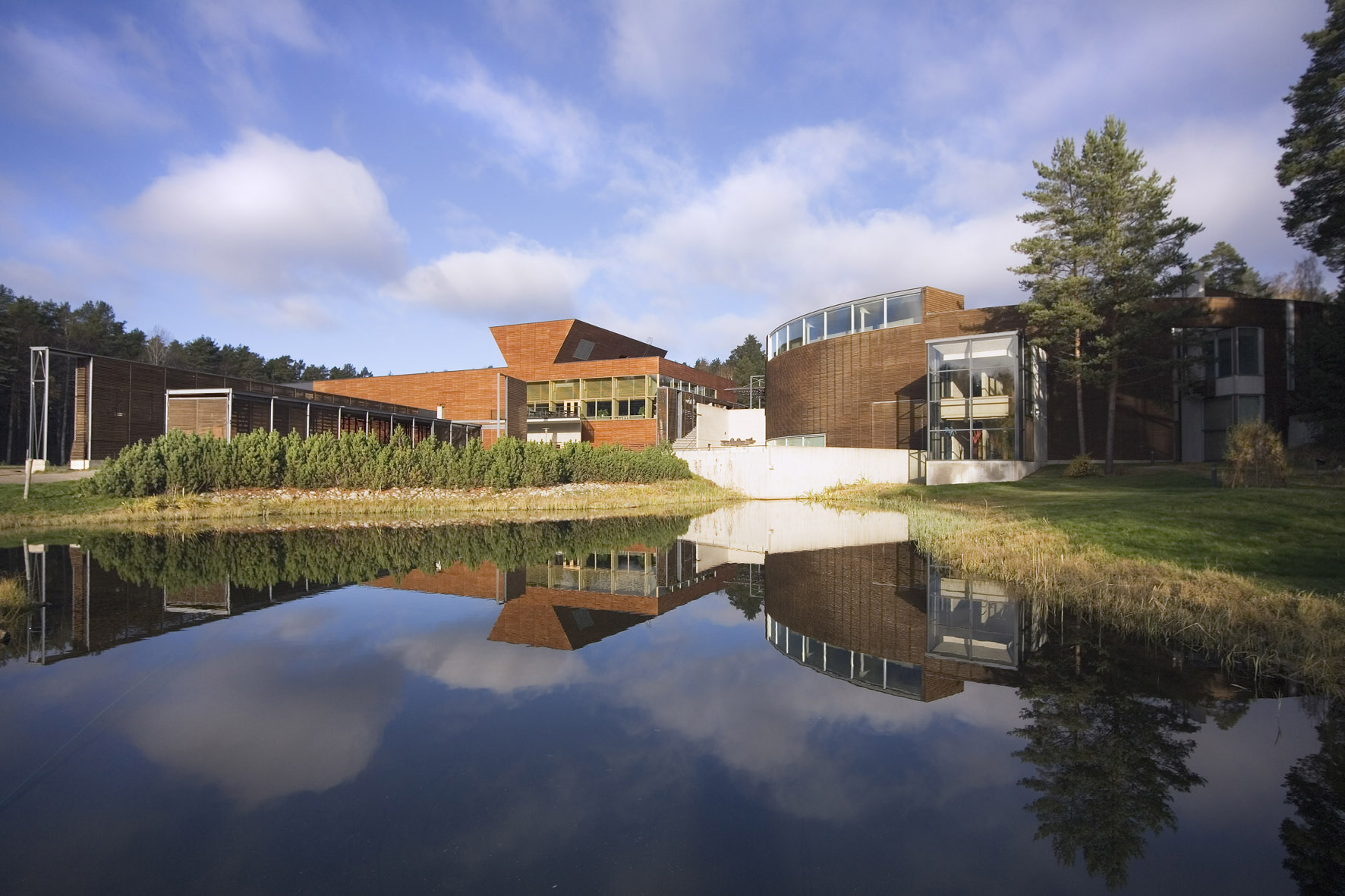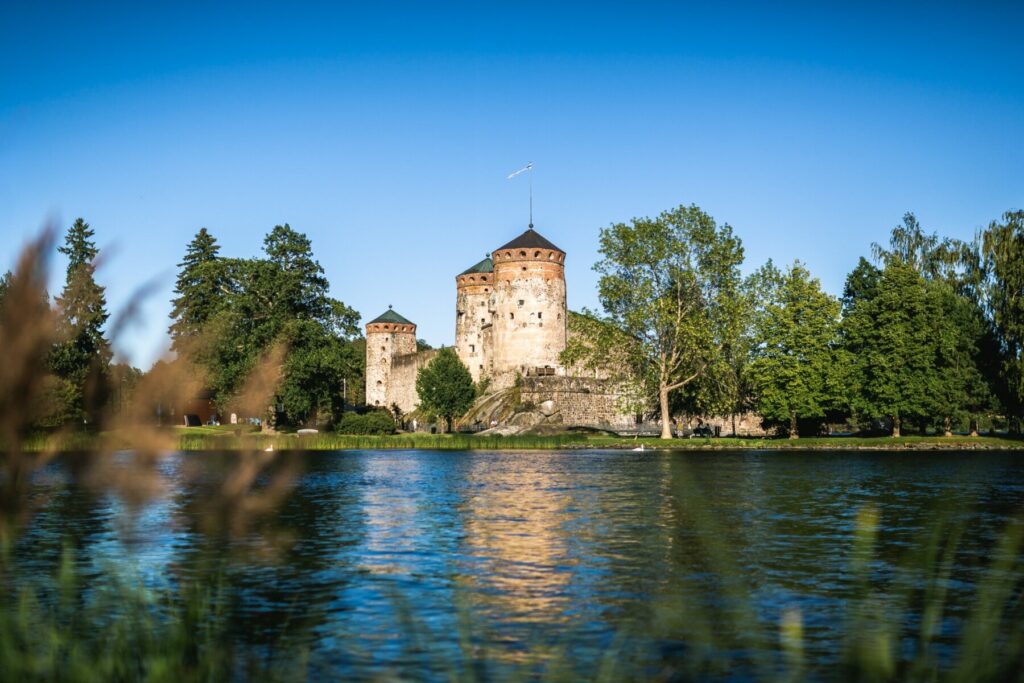 DAY 4 Punkaharju – Savonlinna – Punkaharju 70 km
Savonlinna region at the heart of Lake Saimaa is Finland's oldest tourist destination. Its diverse and dazzling scenery has drawn in visitors since the 19th century. Finns have voted Savonlinna as the best summer city in the country.

Bucket list today:
Olavinlinna Castle, the world's northernmost medieval castle in the world, is the crown jewel of Savonlinna. It is located in the city centre in the midst of beautiful lake scenery. It is best known as the stage of the world-famous Savonlinna Opera Festival. Olavinlinna Castle
A steamship cruise in the Savonlinna archipelago is a wonderful way to spend a summer's day. Alternatively, you can take a mushroom cruise in the end of the summer and enjoy the disches made of mushrooms. Savonlinna Cruises
Restaurant options:
Taste the local fish speciality, muikku, at Muikkuterassi, the roof terrace of Original Sokos Hotel Seurahuone Savonlinna while enjoying the spectacular views over the city. Muikkuterassi Savonlinna – Restaurant
Get a taste of the delicious regional cuisine and the award-winning beers of Waahto Brewery at Brewery Restaurant Huvila. Try also the beers of the other two local breweries Olaf Brewing and Karvila Brewery.
Waahto Brewhouse Savonlinna

During the Opera Festival in July, Hotel Hospitz serves a Dinner Buffet before the performance, and a light Night Buffet after the opera. Enjoy variety of local fishes, tasty meat and fresh salads served from the big wooden boat. Restaurant – Hotel Hospitz
DAY 5 Punkaharju – Heinävesi – Joensuu 187 km
In Valamo monastery, the close proximity to nature, offers hurried people in the busy world of today, a rare opportunity to get away from the bustle and noise of everyday life. East and west shake hands firmly here helping to understand Karelian culture and traditions.
Bucket list today:
Valamo monastery, Heinävesi; guided tours, orthodox culture, hiking, restaurant, accommodation, berry wine tastings for groups Valamo Monastery
Taitokortteli handicrafts quartier, Joensuu: workshops, cafe, arts, exhibitions, hand made local souvenirs. https://www.taitokortteli.fi/en
Accommodation options:
Boutique Hotel Lietsu
Original Sokos Hotel Kimmel
Restaurant options:
The sturdy log walls of Restaurant Filipof have witnessed many lively Karelian conversations. Their food is both delicious and down-to-earth, with roots in classic cooking. Enjoy colourful seasonal vegetables, fresh locally sourced fish, organically grown lamb and other delights.
Restaurant Kielo is the right choice for passionated culinarists. 360 Eat Guide featured Kielo as one of the Nordic restaurants working with sustainability. They serve only two menus at the time but mouthwatering portions are made from seasonal ingredients with care and love.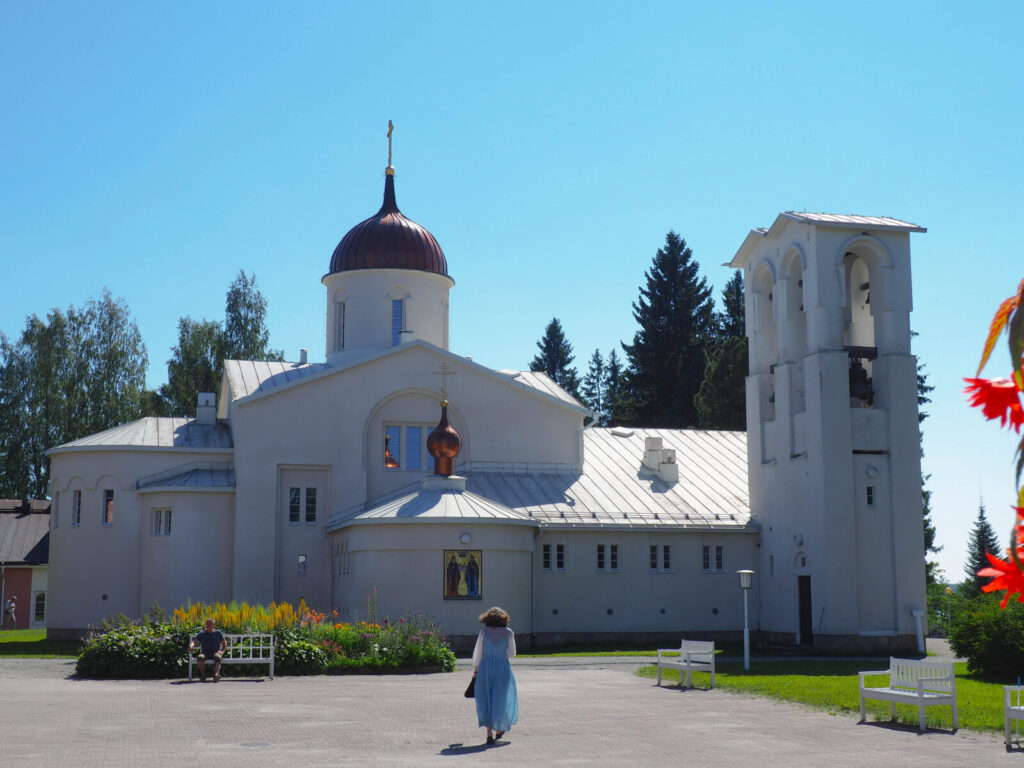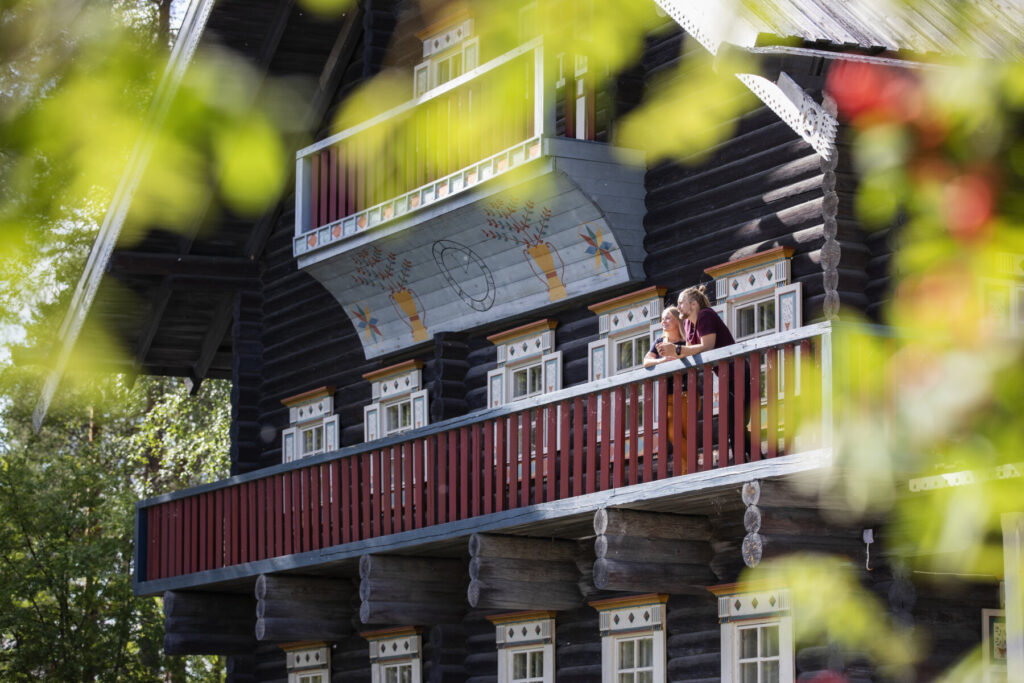 DAY 6 Joensuu – Ilomantsi – Nurmes 253 km
Karelians are known for their hospitality, joy of life and music. Even unexpected guests are warmly welcomed with serving the best possible food and drink. Poem-singing used to be a way to retain and forward information for new generations. And the story goes on.
Bucket list today:
Eva Ryynänen's atelier in Paateri in Vuonislahti village has been one of the most visited sights in the region for decades. A small but at the same time stunning Paateri church is definitely worth a visit.
Guided tour at Paateri
In Bomba Karelian Village in Nurmes, a visitor finds the path of silence to a tiny orthodox chapel by the lake Pielinen, beautiful Bomba house with exhibitons, restaurant and a souvenir shop. Near by spa offers a great way to spend a rainy day with style.
Accommodation options:
Break Sokos Hotel Bomba, Nurmes
Bomba Karelian Village , Nurmes
Guesthouse Puukarin Pysäkki, Valtimo
Restaurant options:
Restaurant Parppeinpirtti in Ilomantsi and Marjo Niiranen, the owner of the restaurant will welcome you warmly to taste the Karelian delicacies while listening to beautiful kantele-music. On certain days you can watch the baking of karelian pasties there.
In Valtimo village, only 30 minutes drive from Nurmes, you can join Karelian dinner at Guesthouse Puukarin Pysäkki. Handmade, home-cooked food using traditional recipes with modern twist are made from local seasonal ingredients. Authentic live like local experience!
DAY 7 Nurmes – Koli – Nurmes 153 km
Koli hill & national park are the most photographed scenes in North Karelia. From the top opens so-called Finnish national scenery over the lake Pielinen. It has inspired artists and painters for decades. The viewing point is easy to reach from the parking place on the top.
Bucket list today:
Karelian pasty workshop in Nurmes in Guesthouse Männikkölän Pirtti is a great way to meet local people and get familiar with the Karelian lifestyle. The owner, Mrs Ritva Ryttyläinen, is known for her pasties around the world.
Picturesque Nurmes wooden old town " Vanha Kauppala" is a lovely place for a guided walk or just to go fora walk by yourself. Pop in to a small cafe and sit down to enjoy your day.
Koli national park and Koli hills can be explored on your own or with a local guide. On guided tours around three tops of Koli, you hear the stories and find the best locations for photographing. On the top there is a restaurant, cafe, spa, hotel and nature center Ukko
Restaurant options:
Gastropub Kolin Ryynänen serves tasty food in Koli Village. They brew their own beer so give it a try too.

Restaurant Kolin satamaravintola Small restaurant in Koli harbour serves fresh fish dishes from lake Pielinen. Also nice terrasse for the warm summer days and local beer is available.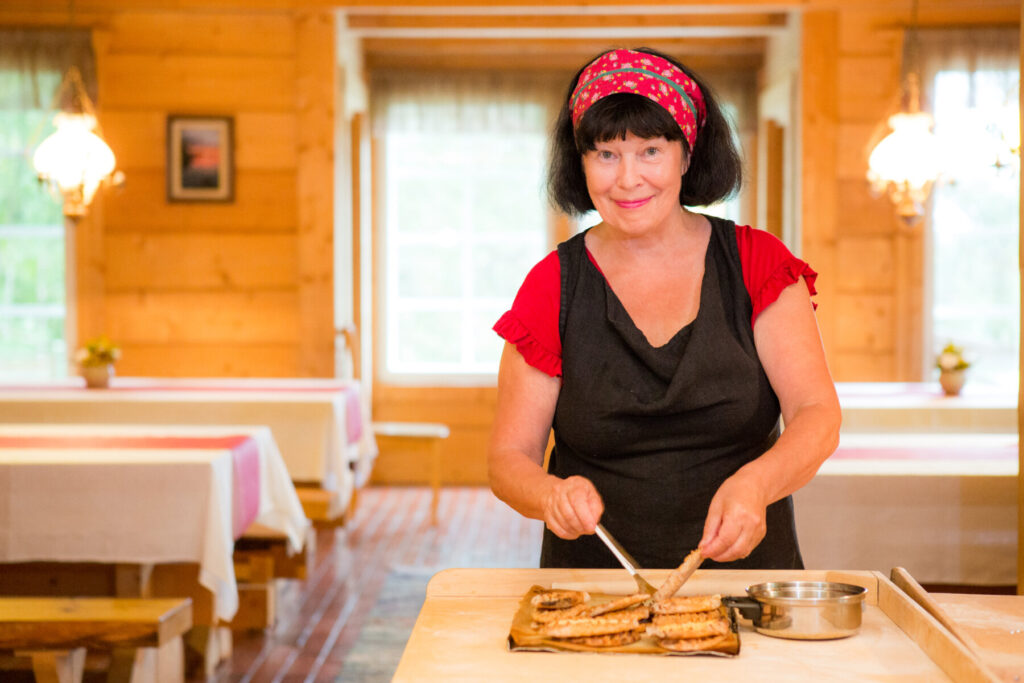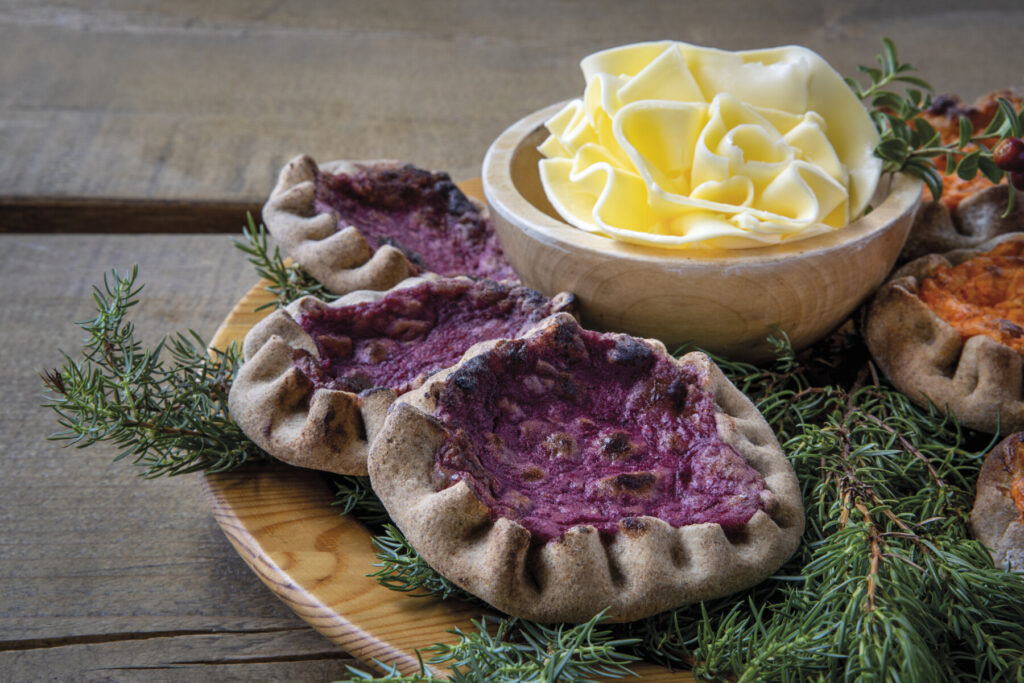 DAY 8 Koli – Kuhmo 153 km
Kuhmo, UNESCO City of Literature and one of the best places to see carnivores in their natural habitat, is located near the Russian border. The natural surroundings, magnificent fauna and cultural heritage are an essential part of the image of this wilderness town.
Bucket list today:
Juminkeko, Information Centre for the national epic of Kalevala and Karelian Culture. This Cultural Centre is also an exquisite example of the Finnish wooden architecture. Juminkeko Information Centre
Visitor Centre Petola, get to know the Finnish large carnivores: brown bear, wolf, lynx and wolverine. Learn how they look and sound like, what their tracks look like and how they move. Kuhmo Visitor Centre Petola
Kaesas café and bakery offers homemade delicacies. Speciality of Kainuu region is "rönttönen" – a sweet barley or rye dough pie is the one of few in the world protected by an EU geographical indication.
Kaesan Kotileipomo, Kuhmo Finland
Accommodation options:
Hotel Kalevala
Hotel Kainuu
Restaurant option:
Hotel Kalevala restaurant serves traditional and international specialities in amazing place by the lake Lammasjärvi. The cuisine is designed for international taste while using local
ingredients and techniques. Hotel Kalevala, restaurant Kanteletar
DAY 9 Kuhmo – Kajaani – Kuopio 272 km
For a start, visit the 370-year-old Kajaani city along river Kajaaninjoki and lake Oulujärvi. It is known for its diverse cultural, music and literature offerings. Kuopio and its surroundings are full of restaurants and cafes, which cater to any and all desires of the hungry and thirsty.
Bucket list today:
Kajaani Castle Ruins is the northernmost stone castle in the world located in the island of city centre and the park along the river.
Kajaani Castle Ruins
Explore the only tar channel in operation in Finland. During the summer, tar rowing events are held on the canal, using narrow and long wooden boats in the original style. Tar Canal
Decorate your own memento with local artist Jenni Linnove in Kuopio; In the workshop, each participant will decorate a mug from the studio's collection by hand. Jenni Linnove Ceramic Studio
Visiting the Orthodox Church museum Riisa, one of the most notable Orthodoxe Church museums in Europe. RIISA
Accommodation options:
Original Sokos Hotel Puijonsarvi
Scandic Hotel Kuopio
Lapland Hotel Kuopio
Hotel Sawohouse
Restaurant options:
Jätkänkämppä (Lumberjack's Lodge), Kuopio. Experience a traditional lumberjack atmosphere of the 1950s in an authentic setting. Bath in the smoke sauna, enjoy traditional dinner buffet menus and live Finnish folklore music. Dinner and sauna at Jätkänkämppä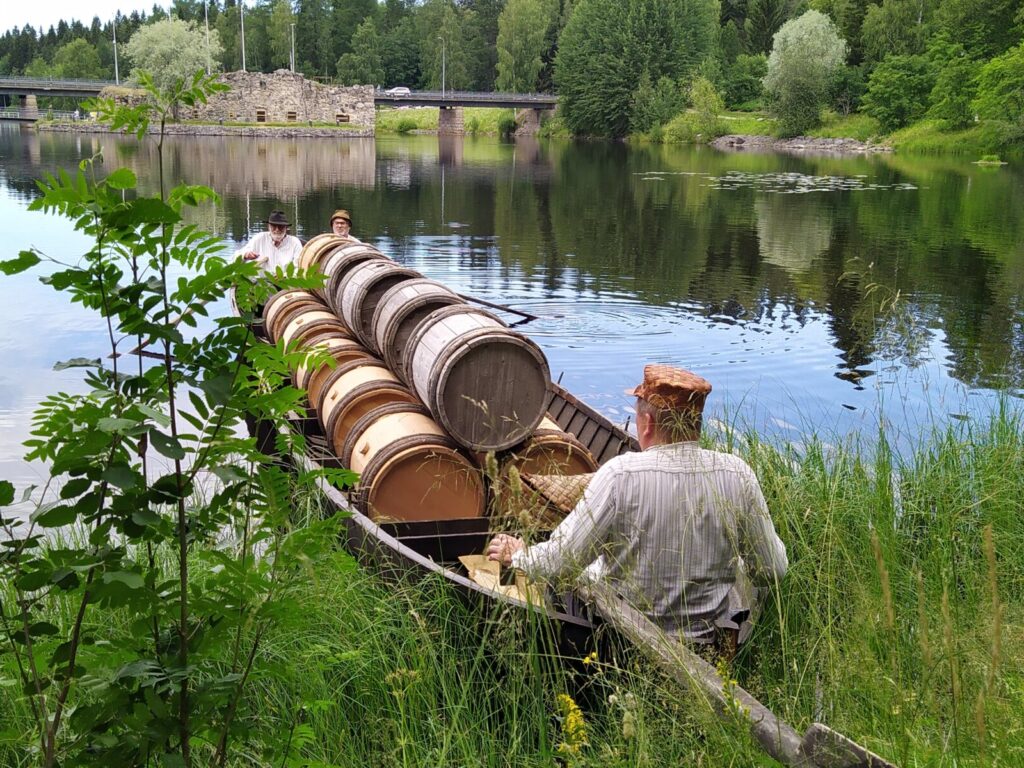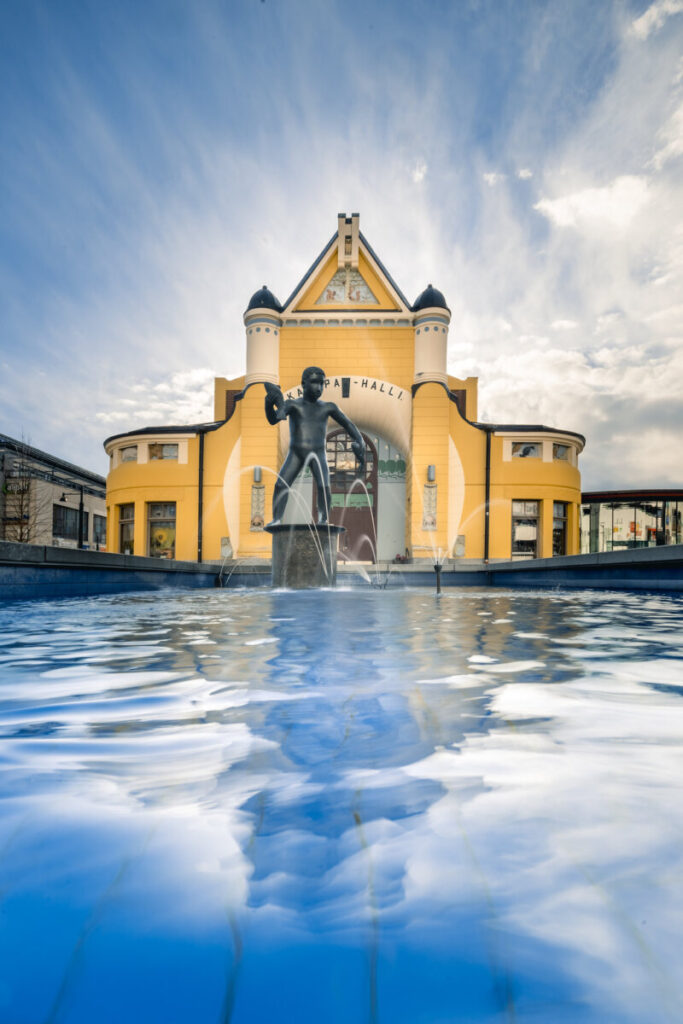 DAY 10 Kuopio
In Kuopio, the capital of European Gastronomy (2020-21), you can enjoy the local ingredients for example during the sightseeing tour. You can also participate in some of the several cruises organized by the local ship companies.
Bucket list today:
Kuopio Market hall was nominated as the most beautiful market hall in Finland in 2020. The story of Hanna Partanen's "kalakukko" (fish rooster) goes back more than 100 years. You can taste and buy it in the market hall. Kuopio Market Hall
Tasting Kuopio – tour; Enjoy local tastes at three different restaurants, guided by a professional local guide. Kuopio city guides
Lignell & Piispanen is an alcohol producer founded in 1852. Visitor Center offers customers Factory Tours, Tastings, and factory store Kauppahuone and Arctic Bar, where you can enjoy our products and signature cocktails. Lignell & Piispanen
Restaurant option:
Restaurant Isä Camillo in Kuopio, Their kitchen mixes fresh local ingredients with Mediterranean cooking. Each portion is made and served with a big heart, passion and skill.
Welcome to Isä Camillo – Kuopio
DAY 11 Kuopio – Varkaus – Mikkeli 182 km
Varkaus region offers many sights and holiday destinations. Try out local caviar, visit the Mechanical Music Museum and take a walk in Old Varkaus. In Mikkeli region, you will find the perfect mix of nature experiences, local food, beautiful gardens and manors.
Bucket list today:
Mechanical Music Museum is one of the best of its kind in Europe and is mentioned in tourist guidebooks abroad as one of the top ten destinations in Finland. The Mechanical Music Museum

Art Centre Väinölä is an idyllic wooden house gallery in the shadow of birch trees in the centre of Varkaus. Art Centre Väinölä
Kenkävero in Mikkeli prides itself on having the biggest and most beautiful vicarage in all Finland. Kenkävero old vicarage
Accommodation options:
Hotel Oscar , Varkaus
Tertti Manor, Mikkeli

Restaurant options:
TeaHouse of Wehmais is a tea room-bistro in the old stables of Wehmaa Manor. Tea and food meet in a whole new way in their seasonal menus made of local ingredients
TeaHouse of Wehmais
Tertti Manor's award-winning restaurant will serve you the finest Finnish flavours from lakes, land, forest and their own herb garden.
Tertti manor
Food based on high-quality, fresh and local products and the dedication to ethical and responsible farming are the cornerstones of Sahanlahti Resorts dining. Sahanlahti resort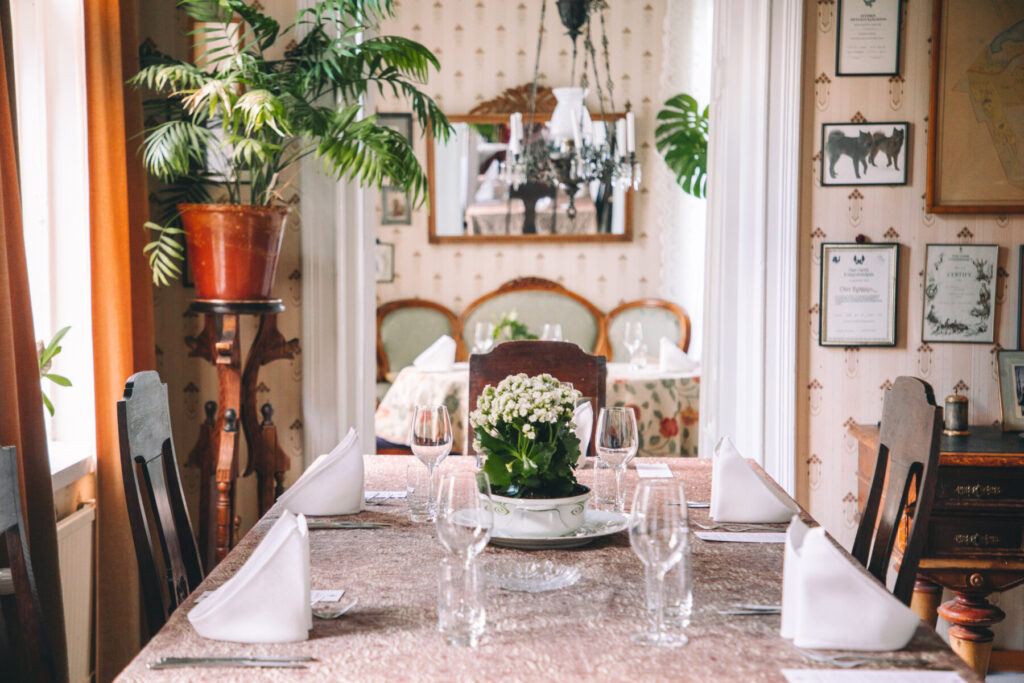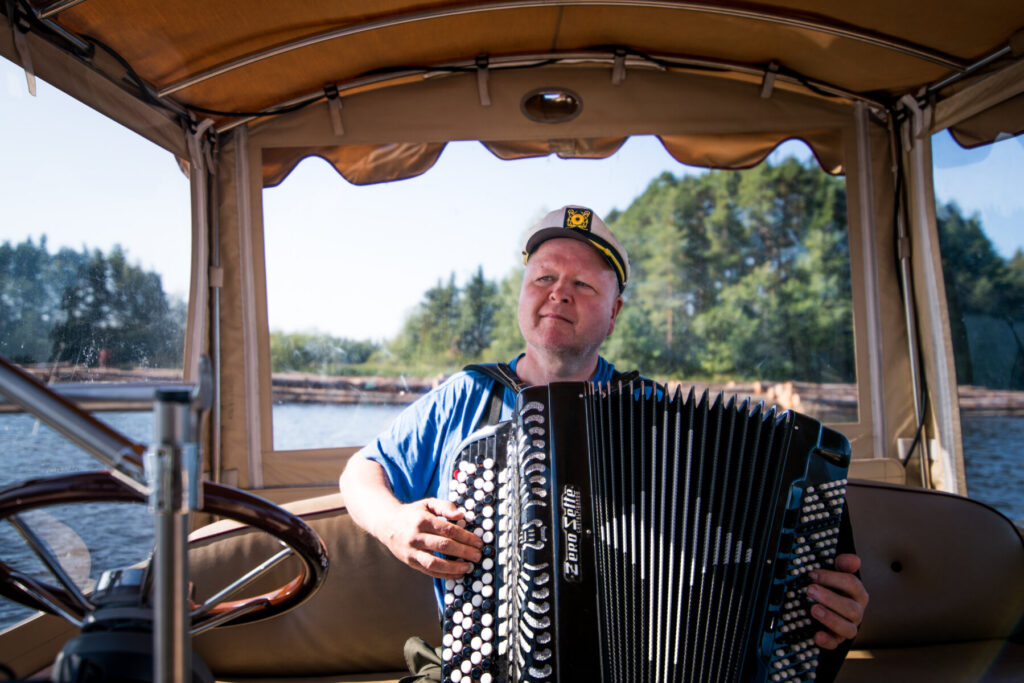 DAY 12 Mikkeli – Puumala – Ruokolahti – Lappeenranta 172 km
Experience Saimaa Geopark and Puumala archipelago. Even if you are not renting a cottage with us this time, Puumala makes a great day-trip for visitors of all ages. Halfway between Puumala and Lappeenranta is located Ruokolahti with lively cultural sites.
Bucket list today:
Explore the cultural sites of Ruokolahti with an expert guide of Creative Kaiku. Discover Ruokolahti and its church hill, one of the most beautiful in Finland, or pop to the 'odd stone' (Kummakivi). Creative Kaiku
Get a cup of hot coffee in Finland's best cafeteria Satamatie 6 in Lappeenranta harbor and hop on to a cruise to Lake Saimaa scenery to wine and dine. Satamatie 6 & Karelia Lines
Accommodation option:
Original Sokos Hotel Lappee
Hotel Rakuuna
Salpalinjan Hovi
Restaurant option:
Wanha Makasiini Bistro is an atmospheric restaurant with delicious dishes prepared from the freshest ingredients available. The strawberry on the cake is the gorgeous red bricked milieu in Lappeenranta harbour. Restaurant Wanha Makasiini Bistro
DAY 13 Lappeenranta
Home journey
Departure from Lappeenranta (LPP) to Helsinki (HEL) or drive to Helsinki (HEL) 2,5 hours.
MORE INFORMATION FROM TEAM LAKELAND (Regional DMOs)
Arctic Lakeland Kainuu, Hanna Linjala, hanna.linjala
goSaimaa, Katja Vehviläinen, katja.vehvilainen@gosaimaa.com
SavoGrow, Teija Neuvonen, teija.neuvonen@savogrow.fi
Savonlinna Travel, Tanja Lajunen, tanja@visitsavonlinna.fi
VisitKarelia, Leena Tervakorpi, leena.tervakorpi@visitkarelia.fi 
Visit Mikkeli , Tarja Vesalainen, tarja.vesalainen@mikseimikkeli.fi


SALES AND BOOKING (DMC)
Ask your local travel agency or team Lakeland above for recommendations.